Boroughbridge: Devil's Arrows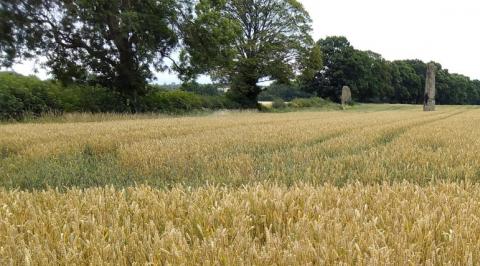 These huge standing stones in the middle of a North Yorkshire wheat field are known as the Devil's Arrows.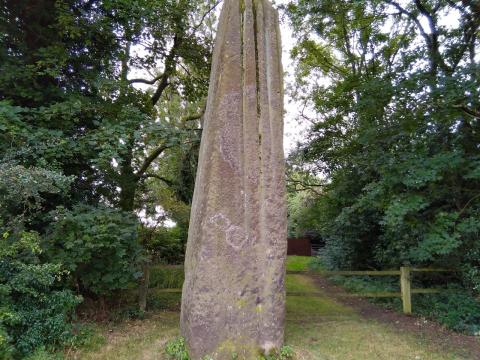 A sibling stands across the road in some trees and they are the second-tallest monoliths in the United Kingdom. The accompanying plaque says they were erected around 2,700BC which is staggering, making them roughly contemporary with the first Egyptian pyramid of Zoser. Though not quite as spectacular as their North African rivals, they remain impressive at 18-23 feet tall. I guessed that half their height again would be down in the ground to prevent toppling. Why such stones would be erected, remains a mystery. Their enigmatic name is only eighteenth-century in origin, and comes from a tale in which the devil attempted to throw large stones at nearby Aldborough, the ancient Brigantian capital, for abandoning druidism for Christianity. As he hurled, he proclaimed:
Borobrigg, Borobrigg,
Keep out of the way,
For Auldboro' town
I'll ding down to-day.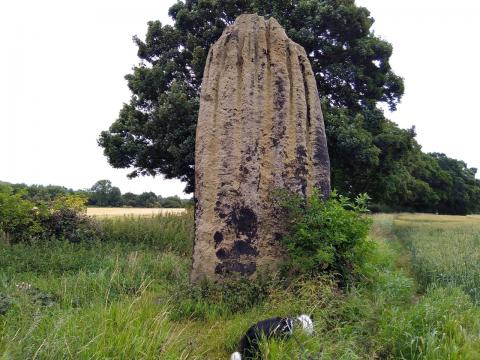 Evidently, his aim was poor or his strength inadequate, for he missed the ancient town, hitting instead some fields north of Boroughbridge ('Borobrigg'). There were five stones in total, but one is said to have been recycled as a bridge and another toppled at the hands of treasure hunters 2-3 centuries ago. The remaining three stand as an inscrutable memorial to a long-lost civilisation.
The term 'devil's arrows' derives not from British legend or ancient building works, but the Bible:
Above all, taking the shield of faith with which you will be able to quench all the fiery darts of the wicked one. Ephesians 6:16
I suspect the real devil's fiery darts or flaming arrows (NIV) are rather subtler and more discreet than these beldams, though I suspect his actual aim is rather more effective. Arrows weaken and handicap, they hinder and hamper. The old serpent cannot destroy the Christian, for he is well-shielded and protected by his general, but he can delay, deter and discredit.
But let us who are of the day be sober, putting on the breastplate of faith and love, and as a helmet the hope of salvation. 1 Thes 5:8