Brazen Gate Round Cairn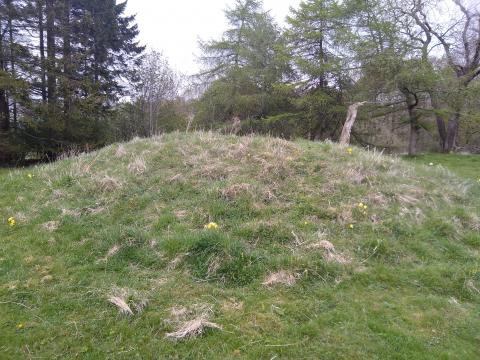 A Yorkshire Camps volunteer recently took me to a large, nearby bump, not far from Netherside Hall at Threshfield. It is a bronze age burial mound, and is very obviously man-made. The top is sunken, for it would once have contained a burial covered with earth. As this rotted away, the topsoil fell in, creating the current hollow. Online sources say it was excavated in the 1920s, and a single burial was found within. Job 14:13 implores:
"Oh, that You would hide me in the grave, That You would conceal me until Your wrath is past, That You would appoint me a set time, and remember me!"
Whoever first occupied this grave was alive sometime between 2000BC to 700BC. He may have been a contemporary of Job, albeit at thousands of miles' distance. No-one on earth remembers him, but the God of heaven recalls him -or her- perfectly. Whether he will receive God's due wrath, or Christ bore it on his behalf, we cannot tell. He was an important person in his day, his burial was expensive and time-consuming. Still, however, he shall appear before the throne- as shall we all.