Bread of Life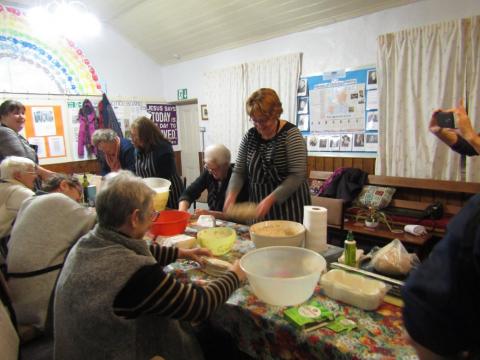 Some weeks ago, the chapel's Craft Group had a bread-making evening. Former generations would have looked askance at such an event; for them, making their own bread was a daily chore and the last thing they'd want to repeat in their leisure hours. I guess our equivalent would be advertising an 'iron some shirts evening'; I doubt there'd be a great take up.
Yet making one's own bread has become a fashionable thing to do. It's like going back to basics. You know there are no additives and chemicals amongst the ingredients if you've made your loaf from scratch. It's also quite a middle-class thing to do; 100 years ago, 'posh' people may have bought their bread; those unable to justify such extravagance made their own.
Making your own loaf and eating it is incredibly pleasurable. I know that I seem to speak as one with authority and experience, whereas I have no right. But I do enjoy eating other people's. Bread is a wholesome, staple food.
In John 6, the Lord Jesus said:
 "I am the bread of life. He who comes to Me shall never hunger, and he who believes in Me shall never thirst. 36 But I said to you that you have seen Me and yet do not believe. 37 All that the Father gives Me will come to Me, and the one who comes to Me I will by no means cast out. 38 For I have come down from heaven, not to do My own will, but the will of Him who sent Me. 39 This is the will of the Father who sent Me, that of all He has given Me I should lose nothing, but should raise it up at the last day. 40 And this is the will of Him who sent Me, that everyone who sees the Son and believes in Him may have everlasting life; and I will raise him up at the last day."
The Bread of Life is wholesome for the soul, a staple for the spirit. In the bad snows this week, bread was the first thing to sell out in the shops. Obtain it while you can.