The British Army: Engagement with the Community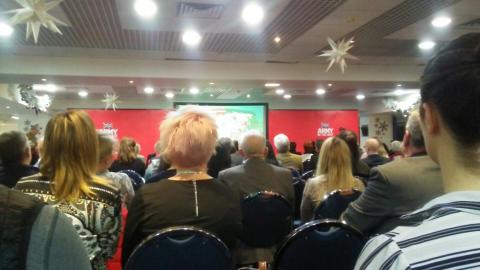 On Wednesday I represented the Chapel at an event hosted by the British Army, the intention of which was to 'engage the local community'. The great and the good were present at Ewood Park, Blackburn Rovers' football ground, including such august persons as local mayors, county councillors, the Lord Lieutenant and leaders of various charities.
The event was run by two colonels, assisted by a number of majors and other soldiers of rank. They were very keen to prove how 'inclusive and diverse' they are, and the event reminded me just how benevolent are military is. Small, yet well-trained and professional, they stand-by ready to defend us and our interests around the world. The officers are sensible, intelligent men and women. In some countries, army officers pose a threat to civilian governments, performing coups and over-turning undesirable election results. The British Army goes to fight politicians' wars regardless of its support of their objectives.
As a Christian, I veer towards pacifism on a personal level. Yet God's appointing of post-Eden humanity into nations requires that suitable arrangements be made for those nations' defence. Like civil magistrates and governors, I believe God approves of the armed forces as a means by which humanity's sinful excesses be curbed and restricted. There's many a foreign despot who has greedily eyed Britannia's bosom; our military has taught them a lesson or two in response.
I was interested to note that 74.2% of the armed forces claim to be Christian, with 22.4 purporting no faith and the remainder belonging to other faiths. This compares well to the 59.5% of the general population claiming an affiliation to Christianity.
This week, I thank God for our Army, Navy and Air Force, and for the brave men and women who serve therein.