Captain Hudson: Lord, Thou Knowest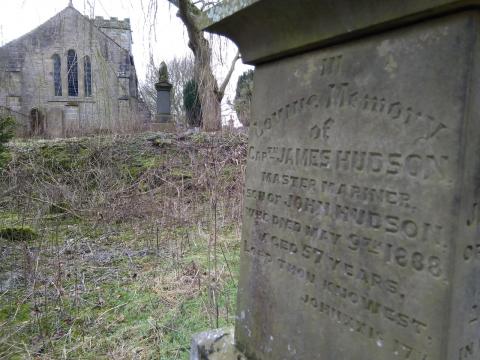 At Barnoldswick's Ghyll church is an imposing family grave belonging to the Hudson family. On it is inscribed a memorial to Captain James Hudson. It describes him as a 'master mariner' who died in 1888. I cannot find any reference to him online, so I imagine he was just a regular merchantman's captain, supplying Victoria's colonies with cotton, wool or steel.
Barlick struck me as an unusual breeding ground for budding sailors and aspirant sea dogs. I suspect it is the Lancastrian town farthest from the coast. For those who point out that its rose was once white, it lies even farther from the eastern, Yorkshire coast. Having lived a few years in Morecambe, and having close relatives at nearby Heysham, I miss being close to the coast. I love the rolling hills and drumlins which surround my current home, but a sea breeze is an invigoration much missed. I guess the sea's call somehow persuaded young Mr Hudson to leave behind his native, landlocked town. 
I have a friend who, when we were growing up, engaged in some questionable practices. He is now a policeman. When I was a young teenager, I was something of a hypochondriac who enjoyed missing school. The slightest pang of a tummy ache or sniffle was a fine excuse for a few days off school, with its unfathomable mathematics, angry PE teachers and plentiful homeworks. Four years after leaving school, I became a teacher. If some career choices are framed by irony and mystery, the people called Christians are more so. Paul tells the Ephesians in chapter 2 that we:
…were by nature the children of wrath, even as others. But God, who is rich in mercy, for his great love wherewith he loved us, Even when we were dead in sins, hath quickened us together with Christ
In other words, we were sinful by nature, not mere choice. We were not just well-intentioned people who wanted to improve ourselves; we were intrinsically sinful and corrupted inside and out. While we were in that state, God chose to enliven us and reunite us to Himself through Christ Jesus. I know bank robbers and terrorists whom God has saved, and I know He has saved me. This is less comprehensible than land-lubbing Captain Hudson's attraction to the ocean. On his grave is written:
Lord Thou Knowest John 21:17
I chose Christ because He first chose me. Why He did so is a mystery I ponder but can never solve. I am a fallen man and a disappointing Christian, having little to commend me, yet the merciful God in heaven applied Christ's saving work to my fallen heart. Why would He pay so exacting a price for such meagre reward? Why spend His well beloved Son procuring so poor a bargain?
Lord Thou Knowest.