The cheerfulness of daffodils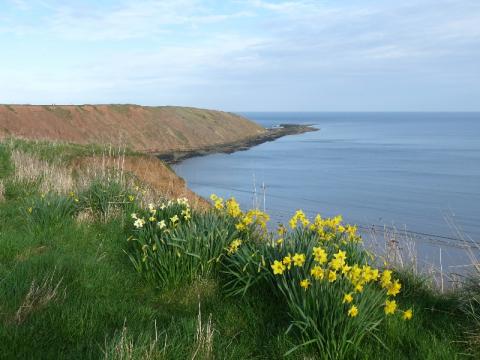 There is always, I think, something so cheerful about daffodils. Their golden glow in an otherwise dull landscape is like the promise of Spring after a grey winter. Just now, on the cliffs near Filey, they are in full bloom, enduring the cold east wind with grace and elegance.
And at the moment, when it seems that the Lord has 'arisen to shake the earth mightily', as Isaiah puts it (2:21), when life seems circumscribed and topsy-turvy and full of uncertainties, reasons for cheerfulness are perhaps rather hard to find.
The Apostle Peter, writing to believers in difficult circumstances, reminded them, and reminds us, to lift our hearts and minds to the Lord Jesus, the One who is our Saviour and King, the Sovereign of the universe, working all things (as Paul reminds us in Romans 8) together for our good. Who knows what opportunities there may be to reach out to the fearful in these times of God's severe mercy?
Do not fear what they fear, and do not be disturbed, but in your hearts sanctify Christ as Lord. Always be ready to make your defence to anyone who demands from you an account of the hope that is in you; yet do it with gentleness and respect. (1Peter 3:14b-16a) (RSV) 
Who can cheer the heart like Jesus,
By His presence all divine?
True and tender, pure and precious,
O how blest to call Him mine!
Chorus: All that thrills my soul is Jesus;
He is more than life to me;
And the fairest of ten thousand
In my blessed Lord I see.
Love of Christ so freely given,
Grace of God beyond degree,
Mercy higher than the heaven,
Deeper than the deepest sea!
What a wonderful redemption!
Never can a mortal know
How my sin, though red like crimson,
Can be whiter than the snow.
Every need His hand supplying,
Every good in Him I see;
On His strength divine relying,
He is all in all to me.
By the crystal-flowing river
With the ransomed I will sing,
And for ever and for ever
Praise and glorify the King.
Thoro Harris