Christian Freedom: Bury St Edmunds
"Has the UK become a hostile place for Christian street preachers?"
-asks Gurdeep Singh, writing for the secular news site Spiked Online. When non-Christians notice the prejudice towards Christians and the apparent curtailment of our rights to evangelise, we know something is deeply wrong with our country.
I am currently in Bury St Edmunds, a rather up-market Suffolk town. Traditional pubs, smart restaurants and quaint shops nestle among the medieval streets and Tudor houses. There may be troubles elsewhere, but this really is quintessential England. Yet here I found three reminders why we should not have taken our freedoms for granted. If Bury is quiet and charming now, it is has seen its fair share of strife in our battle to worship freely.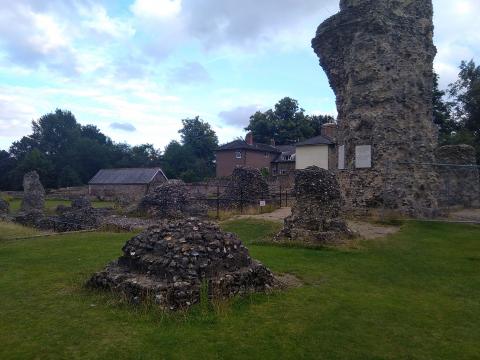 The first was in the grounds of the old, ruined abbey. I stood at the site of the altar of St Edmund where, in 1214, Simon Langton and the barons swore to make King John sign a Magna Carta which would, among other things, guarantee the independence of the church from the state:
FIRST, THAT WE HAVE GRANTED TO GOD, and by this present charter have confirmed for us and our heirs in perpetuity, that the English Church shall be free, and shall have its rights undiminished, and its liberties unimpaired.
I appreciate this was the Church of Rome, and that twelfth-century folk had a different understanding of freedom than we now have. Still, there it is. Their oath was fulfilled, the document signed.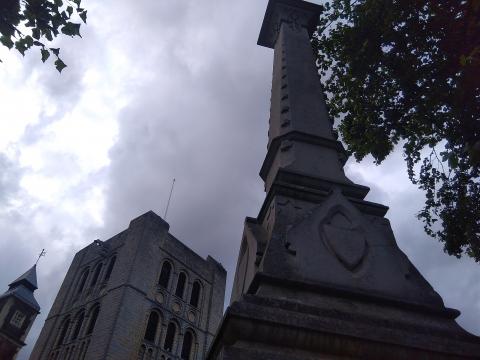 The second was a stone's throw away in the grounds of the cathedral. A tall, elegant memorial lists 17 names and their respective occupations:
Alexander Lane, Wheelwright
John Dale, Weaver
Robert Miles, Shearman
Roger Bernard, Labourer
James Abbes, 'a youth'.
The list goes on. They were ordinary folk, who worked for a living. Their crimes? Holding fast to Protestant truth when all around them went back to Mass at the time of Bloody Mary. That she-wolf had them imprisoned and burnt to a crisp, for they would not exchange their lives for their salvation.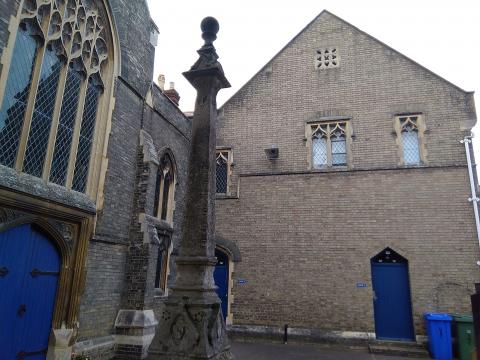 The third reminder was outside the town's URC church, the former Congregational Chapel. The stone monument commemorates two men who were hanged in the town for circulating copies of a tract called Reformation without Tarying for Anie, by Robert Browne of Norwich. He advocated independent churches made up of believers, much like our own. His catchy title refers to his desire for haste in forming biblical churches rather than the Church of England's rather slow and awkward compromise. The two men, John Coppin and Elias Thacker, for advocating congregational worship and denying the Queen's right to govern the church as well as the state, were hanged on the 4th and 5th June, 1583. Their last words, addressed to the judge, were recorded as: "My lord, your face we fear not, and for your threats we care not, and to come to your read service [ie Anglican worship] we dare not." One was hanged immediately, the other the following day.
So as I contemplate the looming aggression towards evangelical Christianity and the menacing threats to our rights to evangelise, may we not forget the men and women of the past who faced much greater pressures before, not loving their lives unto death. We pampered Western Christians have forgotten how to go through tribulation, despite our fathers' familiarity and the common experiences of the persecuted church throughout the world.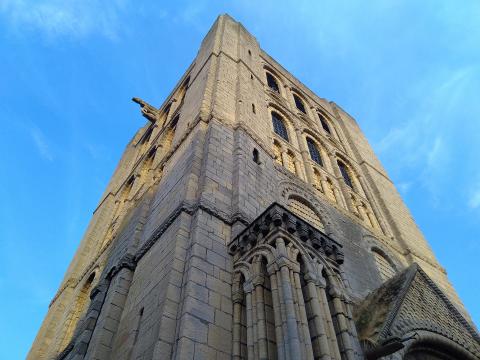 I suppose St Edmund himself should also get a mention, he being a martyr. 
Blessed are ye, when men shall revile you, and persecute you, and shall say all manner of evil against you falsely, for my sake.
Matthew 5:11