Clitheroe Gold Dust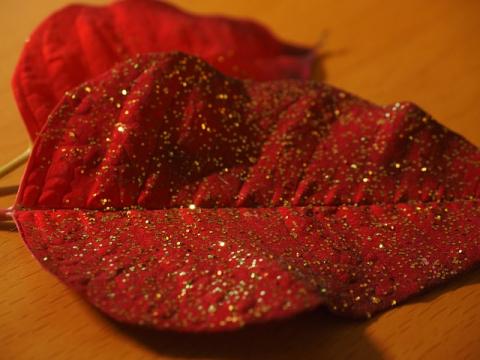 The Clitheroe Healing Rooms have a website, upon which is written various testimonies. I'm conscious that the kind of people who write on these sites are potentially vulnerable and that they may be well-intentioned and sincere. I have no doubt that God does heal people today, though accounts below lead me to question whether that which is described is truly from heaven.
"I came to the Healing Rooms a few months ago & had prayer for lower back/hip/leg pain. I didn't get immediate healing but over the last few months &amp [sic]; with some more healing prayer the pain is a lot better. An amazing thing also happened whilst I was there – one of the ladies who prayed for me said she saw "gold dust" on my wrist & said I was very privileged. Thank you so much for you all in this ministry – it is a wonderful service to our Lord & Saviour, Jesus Christ. Praise God" [emphasis mine].
If I was in pain, even reduced pain, I'm not sure I'd feel privileged because a lady thought she saw some ground-up precious metal on my wrist.
Another reads, from February 2009:
"During prayer for back/hip pain, God grew my shortened left leg 1cm. Praise God. Await the difference this will make in my back/hip pain"
Nine years later, and I'm longing to know if God's shrinking of this person's leg by 1 centimetre has indeed made a difference to the back and hip pain. It would be a shame to be made 1cm shorter but have nothing else to show for it.
"Dear all, I'm writing to thank you for your prayers and encouragement. I have been to the healing rooms twice and on each occasion, I was truly blessed. I came to you because I had recently been diagnosed with a chronic long term condition, overlapping with other conditions. I was unsure about my future and seeking healing and restoration. I found both meetings encouraging and on my first meeting I was blessed with receiving gold dust on my hands and the very real presence of the Holy Spirit."
Sadly, the correspondent went on to say 
"My condition has to some extent stabilised although I continue to have health problems and have again recently been in hospital."
Hmm.
I was recently speaking to a man whose operation on the NHS went wrong, resulting in his having to have a further half-dozen operations to rectify the situation. He remains in constant pain. I broached the controversial issue of him suing the hospital, in light of the fact that he may have to quit his job when his employer will no-longer allow him to work reduced hours, doing less -skilled and less demanding work. He responded by saying that he would turn down all the money in the world in return for the pain going away. Having lots of money, but not the health to enjoy it, is something that only those in chronic pain can understand. Why God would apparently refuse someone complete healing, but instead sprinkle their arms with a bit of powdered gold seems rather unlike the God of the Bible. In Acts 3, when Peter and John came across a disabled man at the Gate Beautiful, we read:
Then Peter said, Silver and gold have I none; but such as I have give I thee: In the name of Jesus Christ of Nazareth rise up and walk. And he took him by the right hand, and lifted him up: and immediately his feet and ankle bones received strength.
The apostles offered healing but no gold. The accounts above offer little healing but plenty of gold dust. If I was ill, I know which I'd sooner have. 
For what it's worth, I dare not fully declare the alleged gold dust as being entirely fake, lest I blaspheme Him whom I love but whose ways I do not fully comprehend. Nevertheless, I've already informed the Lord that should He see fit to offer me some gold dust, I would prefer to receive it in the form of gold sovereigns; this will save me the trouble of melting it down and taking it to a jeweller. Alternatively, cheques can be made payable to me directly. 
Image by Hans Braxmeier from Pixabay