Come rain or shine
The other day, beguiled by a promising weather forecast and some patches of blue in the sky, I decided to go for a ride on my bike.  I hadn't gone far when a dark cloud came rushing across from the west, swallowing up the blue sky and bringing the rain.  So I put on my waterproofs and carried on, with the words of one of Isaac Watts' hymns going round in my head:
This is the day the Lord hath made,
He calls the hours His own;
Let heaven rejoice, let earth be glad,
And praise surround the throne!
Rain or shine, I thought, this is the very day the Lord has made for me, and that is surely a cause for rejoicing.  The shower soon passed on this occasion – or I cycled out of it – and for the rest of the ride I had blue skies to the north…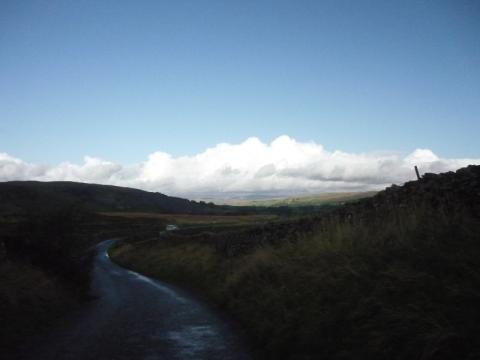 ... and dark ones to the south, though I didn't see them until I turned for home.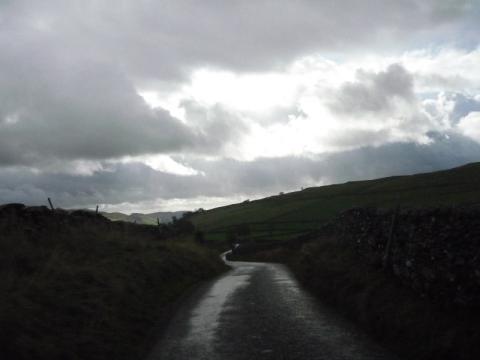 But my waterproofs did their job and I didn't really get wet.  In fact, I was reminded of the words of a friend many years ago, when we were on our way down from the summit of Snowdon and the rain which had been threatening had finally arrived.  "You know," he said, "I really don't mind walking in the rain if I'm dressed for it!"
Whatever the circumstances we are passing through, all can be well if we are 'dressed for it'.  And what better 'waterproofs' for the storms of life than the knowledge that each of our days has been planned for us, and sent to us, by a loving, all-knowing, all-wise heavenly Father?  Moreover, He has promised us His presence, and His perfect peace when our minds are stayed on Him.
Have you not known?  Have you not heard?  The everlasting God, the Lord, the Creator of the ends of the earth, neither faints nor is weary.  His understanding is unsearchable.  He gives power to the weak, and to those who have no might He increases strength.  Even the youths shall faint and be weary, and the young men shall utterly fall, but those who wait on the Lord shall renew their strength; they shall mount up with wings like eagles, they shall run and not be weary, they shall walk and not faint.  Isaiah 40:28-31
Be still, my soul: the Lord is on thy side;
Bear patiently the cross of grief or pain;
Leave to thy God to order and provide;
In every change He faithful will remain.
Be still, my soul: thy best, thy heavenly Friend
Through thorny ways leads to a joyful end.
Be still, my soul: thy God doth undertake
To guide the future as He has the past.
Thy hope, thy confidence, let nothing shake;
All now mysterious shall be bright at last.
Be still, my soul: the waves and winds still know
His voice who ruled them while He dwelt below.
Be still, my soul: the hour is hastening on
When we shall be for ever with the Lord,
When disappointment, grief and fear are gone,
Sorrow forgot, love's purest joys restored.
Be still, my soul: when change and tears are past,
All safe and blessed we shall meet at last.
                                       Katharina von Schlegel
                                       trans J L Borthwick