Concrete Sion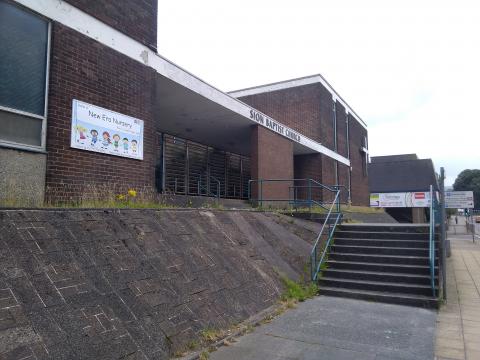 The 1960s really were a terrible decade for a number of reasons, not least of which its architecture. Flat roofs, naked concrete, excessive expanses of single-glazing and a fanatical devotion to right-angles, to name a few. It must have looked futuristic when built, but today it looks dated and tired. The best local example is Sion Baptist Church in Burnley. Although the church itself seems to attract good numbers to its Sunday service, as well as to its various dancing, dieting and exercise classes, its premises are frankly rather grim. I looked up to see what Professor Pevsner thought of it in The Buildings of England. His description is brief:
Stark brick-clad boxes with sparse window strips and flat roofs.
Just as a beautiful church building cannot compensate for an ugly theology of crooked lies, so a stark building cannot obstruct or hinder the life-giving proclamation of gospel truth- if indeed it is proclaimed. Despite his plain face, his drab clothes, his greying hair and his dingy chapel- the gospel preacher shares precious life and hope to all who will hear. As books cannot be judged by their covers, neither can churches by their buildings. I have visited papal basilicae in Rome whose beauty masks the awful lies of works-religion; I have also been in front rooms of council houses where the royal law has been faithfully shared. An old fashioned chapel preaching Christ's gospel remains as relevant as ever, while a modernist church may be sharing archaic falsehood and ancient lies. 
Remember Your congregation, which You have purchased of old, the tribe of Your inheritance, which You have redeemed— this Mount Zion where You have dwelt. Ps 74:2