County Brook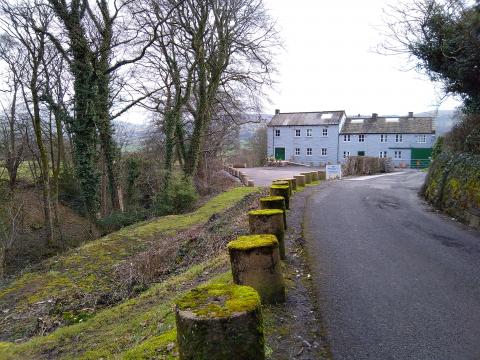 Where are all our clothes made? China? Bangladesh? India? Most probably. Their cheaper labour and longer working hours render their manufacturing less expensive than anything in this country, with our minimum wage, health and safety legislation and expectations of an easy life. Makers of cloth might be headquartered here, but the 'making' occurs thousands of miles away by people unseen.
Imagine my delight when I stumbled upon County Brook Mill, hidden among the trees and streams between Salterforth and Foulridge. The mill's website proudly states:
Located in the heart of the British textile area, County Brook Mill has been weaving textiles for over 100 years. The beautiful mill belies the modern looms and machinery within which produce a wide variety of upholsteries, apparel cloths, throws, scarves and technical fabrics for the world markets.
Although its owners saw fit to paint it in a rather modern grey, it still makes for a pretty sight. And what's more, it provides precious manufacturing jobs for a nation which built itself on woollens and cottons, only to divest itself of them a century or so later. The existence of the mill cheered me. Although I know little about looms, wefts and yarns, it is quite satisfying to know these activities are still taking place here.
Similarly, Great Britain has abandoned its Christian heritage much as it did its industrial legacy. The far east, Africa and South America are leading the way in gospel witness, while Britain and Europe have slumbered into a dark, spiritual morass. The church in New Zealand, Canada and even America may be heading the same way. Still, do not become discouraged, fellow Britons. Just as County Brook Mill discreetly manufactures beautiful fabrics among the trees and dells, so too the God of heaven has reserved for Himself a people in our land. Elijah felt himself all alone in the apostate Israel of Ahab, and we Christians may be tempted to lonesome melancholy and despondency in godless, secular Britain. He who raised up Cranmer, Cromwell, Wesley, Spurgeon and Lloyd Jones to stand for truth in their centuries, will do the same in our own. In unknown places and hidden corners, the Spirit of God is bringing people to Christ.
But ye shall receive power, after that the Holy Ghost is come upon you: and ye shall be witnesses unto me both in Jerusalem, and in all Judaea, and in Samaria, and unto the uttermost part of the earth.
Acts 1:8