Dashed Hopes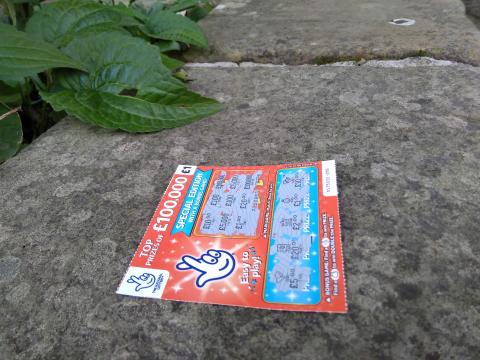 Oh dear. Another dashed hope, another unfulfilled dream.
As I walked to my local Co-op to buy groceries, I came across a discarded scratch card laying on a wall. I didn't bother to check the results; had it been a winner, I'm certain that the one prepared to buy it and scratch it would have gone to the trouble of claiming his prize. A winning ticket would not have been abandoned like a crisp packet or piece of spent chewing gum. Annoyingly, they didn't bother to put it in a bin. Perhaps the realisation that their anticipated mansion, swimming pool or sports car would not be bought that week after all, diminished their sense of public good. How they must have sullenly walked away, another wasted pound, and other frustrated week of having to earn a living or claim state benefits.
Life often doesn't give us what we want. If we're really unfortunate, it gives us everything we want. The rich, who need nothing, find it hard to enter the kingdom of heaven. The poor have so few distractions, they can see the fundamental rottenness of life in a fallen world.
I hope my disappointed fellow townsman finds the One who never disappoints, and gives away His vast riches freely.
"Come to Me, all you who labour and are heavy laden, and I will give you rest. Take My yoke upon you and learn from Me, for I am gentle and lowly in heart, and you will find rest for your souls. For My yoke is easy and My burden is light." Jesus, Matthew 11:28