Dead Man Thinking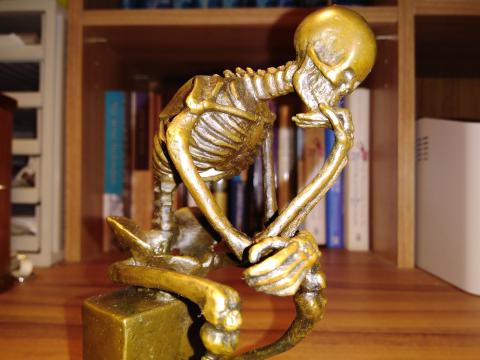 Auguste Rodin's famous sculpture, The Thinker (1880), has become a symbol of philosophy and human thought. A man sitting on a rock, head in hand, ponders the meaning of life. In my study is a small bronze parody of Rodin's famous work. The thinker has become a skeleton, the thoughtful head a skull. 
Christianity is not an intellectual game, a philosophical world-view, an academic preference. Salvation cannot be obtained by cleverness, for the apostle describes our natural state as one of death to sin. In Matthew 16, a conversation is recorded between Christ and His followers:
15 He said to them, "But who do you say that I am?"
16 Simon Peter answered and said, "You are the Christ, the Son of the living God."
17 Jesus answered and said to him, "Blessed are you, Simon Bar-Jonah, for flesh and blood has not revealed this to you, but My Father who is in heaven.
The Gospel is the revealing of the invisible God, the gracious heavenly invasion of our dark realm. Stop trying to 'find' God. Rather, ask Him to reveal Himself:
"Ask, and it will be given to you; seek, and you will find; knock, and it will be opened to you." Matthew 7:7
Interestingly, the original group of sculptures to which The Thinker belonged was called The Gates of Hell.