Drinks, Graves, Sunshine, Service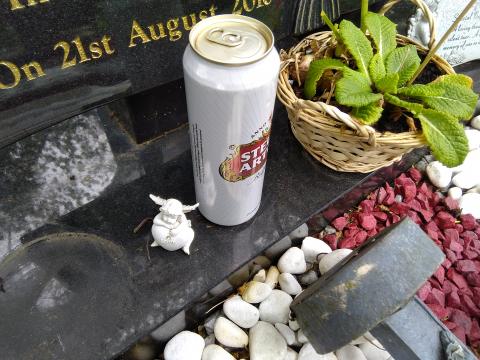 At Salterforth cemetery is a grave by which someone regularly deposits a can of beer. In our own graveyard, by the resting place of two young men, beverage bottles are also left. It's a strange thing to do; the deceased cannot now enjoy those drinks, no matter how enthusiastically they quaffed them down in life. I suspect it's more to help the mourner, still 'buying a drink' for their lost friend. It's actually a very old practice; the Romans poured a libation offering into the graves of their ancestors and loved ones at least annually. Their graves often had holes, that the liquid might flow therein. The practice is in no way Christian; offerings to anyone but God and the living are discouraged.
In mid-August, we briefly considered the queer little story in 2 Samuel 23 in which David, having desired and received the well-water of Bethlehem, 'poured it out' as an act of worship to the Lord. Such liquid sacrifices are sanctioned in Numbers 15 and Exodus 29. Paul even uses the expression of himself in 2 Timothy 4. I would suggest that the drink offering is essentially a picture of Christ's shed blood, seen most graphically when red wine was poured on the Jewish altar. When David drains his special water on the ground, however, it is simply an act of worship, a sanctifying of something to the Lord. It was already precious, for his men had risked their lives procuring it; it became sacred by offering it to the Lord. In a hot, dry land swarming with Philistine invaders, water was a costly commodity. In wet and drizzly Lancashire and Yorkshire, it would not make so rare and exquisite a gift.
I find it hard to work indoors on a sunny day. Occurrences are so rare, that we Britons have been conditioned to 'make the most of it', 'get out of the house', 'go out for the day'. Have you noticed how busier the roads are on our return trip from chapel on Sunday afternoons? To be inside, poring over books or typing into a machine, seems to waste the valuable opportunity that sunshine affords. Yet I wonder if for we northern Europeans, sacrificing the pleasures of sunshine for service, is our drink offering. May we serve Him- and each other- come rain or shine.
Love one another with brotherly affection. Outdo one another in showing honour. Do not be slothful in zeal, be fervent in spirit, serve the Lord. Romans 12:10-11