Dying Lupins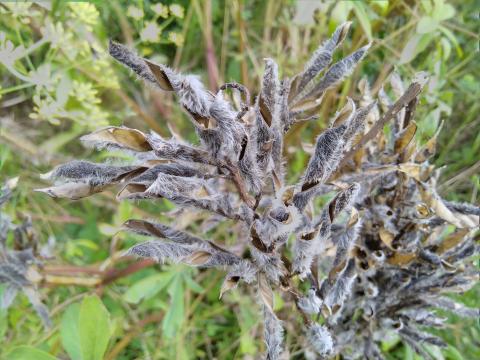 At midsummer, I blogged about some glorious lupins growing along Kelbrook Road in Barnoldswick (http://www.martintop.org.uk/blog/lupins). How wonderful they looked, their proud, tall stems swaying in the wind, the bees competing to court their nectaries. I walked past them again this week, on my way visiting. What a contrast. The leaves are scruffy and torn, their colour gone; the flowers are become brown pods, cracked open, emptied of their precious cargo. For them, if not our calendar, autumn is come, and they are dying off.
These decrepit plants represent our future selves. With time's passage, we lose whatever beauty we had, our usefulness diminishes, and passers-by desire our removal to make room for nicer, younger specimens.
Yet these scruffy plants are smarter than they look. Their seed pods are empty for they have sown into the ground the flowers of next year. They will therefore live on, though their current forms continue to flag and fade. One day, our bodies will be buried or cremated, but we shall rise. We shall not come as another incarnation of our present bodies, but the glorious resurrection body:
The body is sown in corruption, it is raised in incorruption. It is sown in dishonour; it is raised in glory. It is sown in weakness, it is raised in power. It is sown a natural body, it is raised a spiritual body. There is a natural body, and there is a spiritual body. (1 Cor. 15)
I'm looking forward to the next generation of lupins as I walk to Kelbrook, but I look further forward to my own, new body. You will still recognise me, yet I'll lack the aches, pains, scars and cuts of this life. 
For a space that tired body
Lies with feet toward the dawn;
Till there breaks the last and brightest
Easter morn.
But the soul in contemplation
Utters earnest prayers and strong;
Breaking at the resurrection
Into song.
Soul and body reunited,
Thenceforth nothing will divide,
Waking up in Christ's own likeness,
Satisfied.
S. Baring-Gould