Earthworks and Cairns: Burnley at the time of Isaiah
Burnley is sometimes known for its low house prices, suggesting a lack of demand to live there. In 700BC, it was a much sought-after location. There's a couple of square miles or so between Worsthorne village and Briercliffe district which contains two stone circles, four tumuli (ancient burials sites, now mounds) and three other ancient earthworks. The area enjoys wonderful vistas of Pendle and the valleys between.
According to John Lamb, a Lancashire Conservation Officer and Prehistoric Archaeologist, writing in Lancashire's Sacred Landscapes (2015), that marked on the ordnance survey as Twist Castle is a Romano-British farmstead. In other words, Romans or Roman British people farmed this area, and this was their home. It's currently something of a dump for old wood and junk.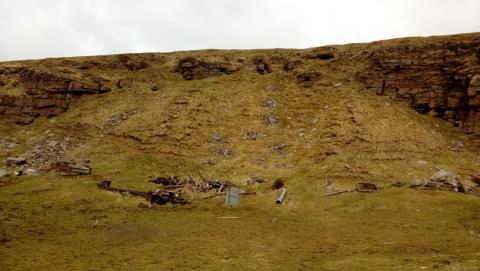 Slipper Hill Stone Circle he dates to before 701BC, placing it in the Bronze Age. As far as stone circles go, it's pretty poor: Castlerigg it ain't. The stones have been disturbed, some have disappeared, and modern debris clutters the site. Was the original a place of worship? A calendar? We do not know.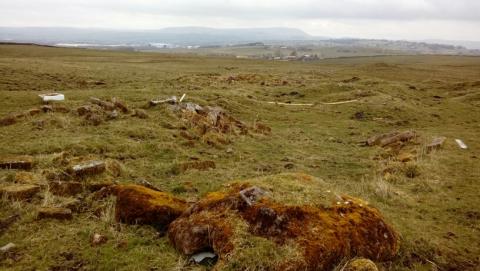 Archaeologist Walter Bennett's (1946) survey classed the 'Ringstones' site as Roman. He quotes a 1925 excavation in which it was found to be 'a rectangular enclosure 50 yards square, surrounded by a mound or rampart 2 yards wide and one yard high'.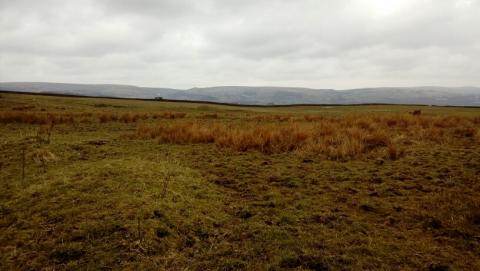 Pike Low Bowl Barrow Tumulus is a circular mount atop a steep hill. I met the local farmer who gave me permission to ascend it. He informed me that it was the burial place of an ancient princess, whose remains were dug up and moved a few generations ago. Fanciful perhaps, but one wouldn't go to the trouble of burying any Tom, Dick or Harry up there.
El Clough Ring Cairn and adjacent Barrow are near to the Princess' grave mound. The former, Lamb unhelpfully dates as 500,000 BC-42 AD, and the latter 2500-700 BC.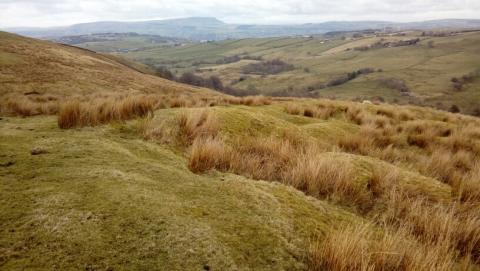 The Beadle Hill Earthwork he again claims is from the Bronze Age, ie prior to 700BC. On the other hand, Paul Bennett, The Northern Antiquarian, states that Beadle could come from 'Beadlo' which is battle in Old English and may refer to a Saxon battle (Brunanburh at nearby Nelson?). If the experts are puzzled, so am I.
As many readers of this blog are interested in the Bible, let's see what was going on in the Middle East at the same time. Assuming the earthworks come from the later dates, then we can say that our mysterious princess was buried around the time of Isaiah and Hezekiah. If a little earlier, then it corresponds to the ministries of Jonah and Hosea:
790 BC  Azariah's good reign                                                    2 Kings 15
790 BC  Uzziah Reigns in Judah                                                2 Chronicles
766 BC  The Words of Amos                                                     Amos 1 - 9
760 BC  Jonah Sent to Nineveh                                                Jonah 1 - 4
753 BC  Hosea's Prophecies                                                     Hosea 1 - 14
750 BC  Jotham Succeeds Uzziah                                            2 Chronicles 27
742 BC  Wicked Reign of Ahaz                                                 2 Chronicles 28,
739 BC  Isaiah's Vision and Commission                                Isaiah 6
735 BC  Isaiah's Prophesy of Immanuel                                 Isaiah 7
735 BC  The Word of the LORD to Micah                               Micah 1 - 7
730 BC  Isaiah Prophesies a Child Is Born                              Isaiah 9
730 BC  Isaiah Prophesies the Root of Jesse                         Isaiah 11
730 BC  Isaiah's Joyful Thanksgiving                                       Isaiah 12
725 BC  Hoshea the Last King of Israel                                   2 Kings 17
722 BC  Israel Led into Captivity                                              2 Kings 17:6
721 BC  Strange Nations Transplanted into Samaria           2 Kings 17:24
716 BC  Hezekiah's Good Reign                                               2 Chronicles 29
715 BC  Hezekiah proclaims a solemn Passover                   2 Chronicles 30
715 BC  Idolatry is Destroyed                                                  2 Chronicles 31
712 BC  Hezekiah's Illness and Healing                                  2 Kings 20,
711 BC  Hezekiah Shows Treasures                                        2 Kings 20:12,
711 BC  Isaiah Prophesies Captivity and Restoration          Isaiah 40 - 66
701 BC  Sennacherib Threatens Jerusalem                           2 Kings 18,
701 BC  Korah's Psalms of Refuge (2Ch 32)                           Psalms 46 - 48
701 BC  Hezekiah's Prayer                                                         2 Kings 19,
Ancient Britons did not write things down, which is why the period is so mysterious. Our ancestors are silent, except when they speak from their earthworks. God the Creator, however, was not silent, revealing spiritual wisdom to Isaiah and his fellow prophets. To think that God would call the descendants of these stone-worshipping pagans to join His Israel is marvellous indeed:
I took you from the ends of the earth,
    from its farthest corners I called you.
I said, 'You are my servant';
    I have chosen you and have not rejected you. 
Isaiah 41:9