Elslack Great Barn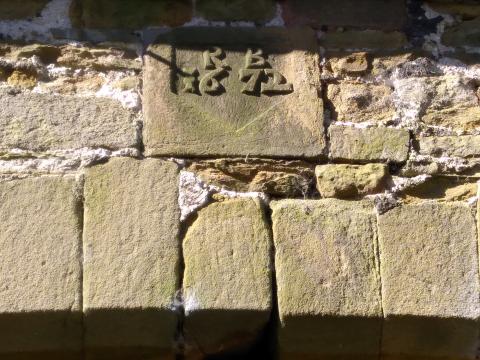 By Elslack Hall Farm is the aptly named Great Barn. It is huge, at around three times the standard barn length. Its stonework is curious and irregular, typical of antiquity. Above one of its large entrances is a datestone- 1672, yet to its left is a blocked-up doorway more characteristic of the sixteenth century. I suspect that the date stone coyly belies the building's real age, like some old piece of mutton sitting in a nightclub. I believe the date refers to an extension of the barn; the earlier section may be 200 years its senior.
Barns, unlike dwellings, were never really subject to architectural fashion and aesthetic trend. It is essentially a practical structure, for sheltering animals or keeping dry their winter stores. When taste for mullioned windows, or Georgian symmetry, or Victorian gothic appeared, the nation's agricultural premises stood aloof. Although any old stone barn possesses a rustic charm, they are essentially plain temples of utility.
In Psalm 144, in the final section concluding wit
Happy are the people whose God is the Lord!
David also writes
That our barns may be full,
Supplying all kinds of produce.
The barns' splendour are not their rounded corbels, dressed stones, fine curtains or gleaming doors. No, it is their fullness. The foodstuffs and stores within are what renders the barn evidence of God's blessing and Israel's abundance.
Our chapel building will never be grand, its congregation seldom sophisticated, its style of worship not technologically advanced with light shows and worship bands. But if we be full to bursting of God's word, proclaiming His full counsels, storing up His treasures even for the winter, then, Happy are the people whose God is the Lord.