Evening Primrose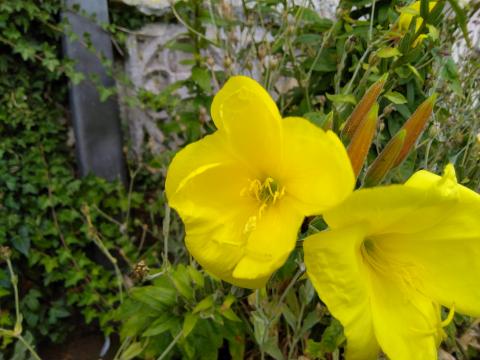 This evening primrose I photographed growing behind the church at Long Melford in Suffolk. It is the plant which lends its name and ingredients to evening primrose oil. One alternative medicine seller enthuses:
Evening Primrose Oil is currently one of the most popular and best-selling herbal supplements available on the UK market.
The plant's seeds contain up to 10% Gamma-Linolenic acid, which is claimed can treat breast pain, acne and eczema. However, this is doubted by certain medical authorities, the British Medical Journal of 2003 memorably describing it as 'a remedy for which there is no disease'.
I like the idea of medicinal ingredients growing in hedgerows and fields, freely accessible and away from Big Pharma. On the other hand, we should be on our guard against the proverbial snake-oil, hucksters and peddlers of expensive placebos. There are many 'official' world religions and respected churches which offer no salvation for the soul. Likewise, there are many folk beliefs and informal theologies which, while outside the stifling control of organised religion, are no better. There are some who reject the gospel because it smacks of archaic institutions, looming cathedrals and establishment prelates. Others reject it because they consider simplistic, the naïve musings of ancient fisherfolk with time on their hands. In contrast, I join the apostle Paul, who boldly proclaims:
For I am not ashamed of the gospel of Christ, for it is the power of God to salvation for everyone who believes, for the Jew first and also for the Greek. Romans 1:16