An exotic visitor
There was a humming bird hawk moth in the garden the other day.  Such an exotic-looking visitor!  It was the first time I've seen one here – I usually associate them with the warm sun and blue skies and semi-tropical habitat of Herm, one of the Channel Islands, where I have seen them on several occasions, feeding on the fuschia flowers near the harbour.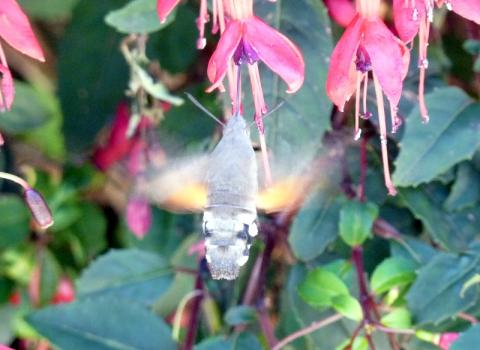 This one was hovering over the phlox, wings vibrating so quickly they were just a blur.  Its proboscis was almost as long as its body, perfectly fitted for delicately extracting nectar from the trumpet-shaped flowers.
Isn't God's creation wonderful?
O Lord, how manifold are Your works!  In wisdom You have made them all.  The earth is full of Your riches.
                                                                                                            Psalm 104:24
Psalm 148
Praise ye, praise ye the Lord,
In yonder heavenly height;
Ye angels, all His hosts,
In joyful praise unite;
O sun and moon, declare His might,
Show forth His praise, ye stars of light.
Praise Him, ye highest heavens,
Praise Him, ye clouds that roll,
Created by his power
And under His control,
Ye heavens that stand eternally,
Established by His firm decree.
Ye creatures in the sea
And creatures on the earth,
Your mighty Maker praise,
And tell His matchless worth;
Praise Him, ye stormy winds that blow,
Ye fire and hail, ye rain and snow.
Ye hills and mountains praise,
Each tree and beast and bird;
Ye kings and realms of earth,
Now let your praise be heard;
By high and low, by young and old,
By all his praise and glory told.
By all let God be praised,
For He alone is great;
Above the earth and heaven
He reigns in glorious state;
Praise Him, ye saints, who know His grace,
And ever dwell before His face.
                                    The Psalter, 1912