A Family Group in a Landscape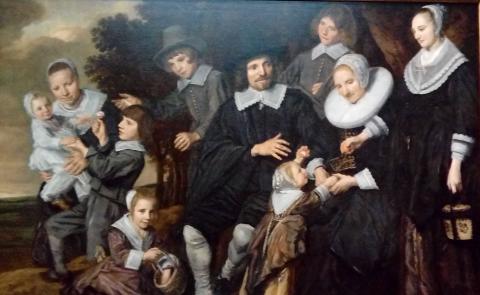 Frans Hals painted A Family Group in a Landscape, about 1647-50, which now hangs at London's National. Here we have a wealthy Dutch family, all of sound protestant doctrine, as epitomised by their modest blacks and greys. The parents in the centre are surrounded by their seven children, from the eldest daughter on the right to the baby held by the maid on the far left. There is a poignant contrast between the still vigorous father and his wife, who has aged prematurely due to her frequent pregnancies. Furthermore, she is depicted wearing the more old fashioned, circular ruff collar one might have seen in the previous century, while her husband wears the more fashionable flat, round, lace collar. Her sense of fashion is reflected in her exhausted appearance; for having survived seven early-modern child-births, she is a strong old stick, but the effort has come at a cost.
Too often, mothers were overlooked and their efforts accounted little for their domestic setting. Yet motherhood in particular is a God-given calling for which huge reservoirs of patience and wisdom must be summoned. Proverbs 31 famously describes the ideal wife and mother. Whereas she may not be a preacher or a priest, she surely brings her little ones to God each day, instructing them in the ways of truth:
Strength and honour are her clothing;
She shall rejoice in time to come.
She opens her mouth with wisdom,
And on her tongue is the law of kindness.
She watches over the ways of her household,
And does not eat the bread of idleness.
Her children rise up and call her blessed;
Her husband also, and he praises her:
 "Many daughters have done well,
But you excel them all."