Family Lessons 1: Falling in the Canal
I'm the first to say that listening to other people's family trees is the very height of dullness, a dry-as-sawdust foray into irrelevance and tedium. Still, my own ancestry throws the odd interesting spanner, some of which I shall share over the next few weeks.
My 4x great grandfather had a tough life. He lost his arm, in the days before employers were held liable for their employees' safety. The Lancaster Gazette of 13 April 1872 reports:
ANOTHER ACCIDENT AT BROOKHOUSE BOBBIN MILL - This mill is very unfortunate in being the scene of very serious accidents to its workman. Another accident has occurred this week, whereby a man named Henry Winn, a bobbin turner has lost his arm. He was in the act of throwing a strap off a revolving drum, when his hand got entangled and carried up over the shaft tearing his hand off. He was brought to the dispensary at Lancaster, where it was found necessary to amputate the arm at the shoulder, the upper part of the arm being fractured.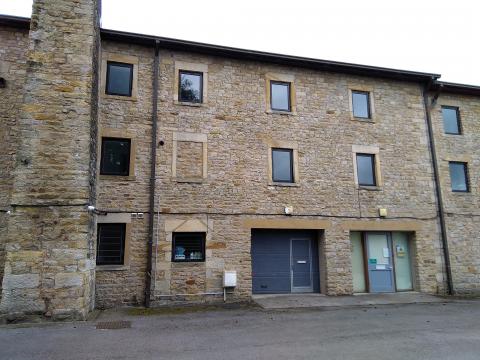 Brookhouse Bobbin Mill
Nine years later, he was in Preston Jail, for larceny (theft). In 1882, he was on trial for something which has since been decriminalised- suicide. It cannot have been straight forward for a one-armed man to end his life, but he denied the charge in any event. Again, the Lancaster Gazette of 8 April 1882, describes the strange incident:
THE CHARGE OF ATTEMPTING TO COMMIT SUICIDE
Henry Winn, 52, labourer of Lancaster, was charged with maliciously throwing himself into the Lancaster Canal at Bulk, on the 21 February, with intent to kill and murder himself. Prisoner pleaded not guilty - Mr Hulton prosecuted. The facts of the case have already appeared at length in our columns: briefly they were as follows :- About twelve o'clock on Tuesday the 21st February the prisoner met a man named Robert Hogg in Germany Street, and after a little conversation, he said "You won't see me again, I'm going to do for myself." Prisoner was rather the worse for liquor at the time, and after leaving Hogg he went to the canal, and very shortly afterwards was found by a man named Parkinson, floating in the water. Parkinson and another man got a pole and got prisoner out of the canal, and thus saved his life. On the towing path of the canal defendant's coat and vest were found. Robert Hogg, Richard Parkinson, Robert F. Moser and P.S. Tomlinson, were called in support of the information. Prisoner in defence, said he had nothing to add to what he (prisoner) had stated before the magistrates, and which was to the effect that he did not intend to drown himself. He meant going to see his son George at Caton, and being dirty, thought he would wash himself, and must have fallen into the canal. He never did intend to commit suicide. He had had something to "sup" that morning, and that was the cause of it. The Chairman having summed up, the jury found prisoner not guilty, and he was discharged.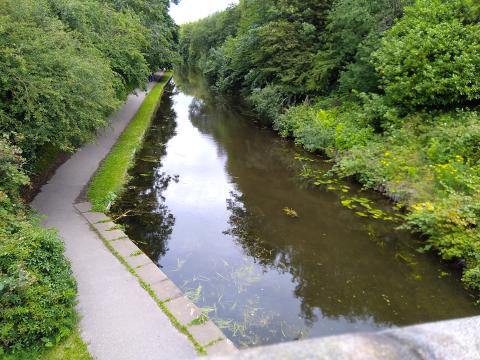 The Lancaster Canal by Ridge Lane 
He was either a drunken fool- 'supping' in the morning and then washing himself in the cold canal whilst inebriated- or he was suffering depression, despairing of his life. He was melancholic indeed to prefer a watery grave to his life. The jury evidently went for the former option, acquitting him of the charge. Nine years later, he was residing at the local Union Workhouse, having been separated from his wife. There he died four years later, in 1895.
What a sad tale. Providence had allotted him a hard life, though my 4xgreat-grandmother's desertion may suggest he made his own bad choices. A disabled man in Victorian England who had nothing to sell but his labour cannot have had it easy. Still, he lived at a time when protestant pulpits faithfully proclaimed God's saving grace. German higher criticism, with his gospel-denying torpor was still reaching so far north. As he sat in the workhouse, picking oakum or breaking stones, did he ponder his eternity?
Perhaps you have had a hard life; you may have seen more suffering in your time than that allotted to most others. So be it. This life may be a vale of tears, but those who call on the name of the Lord are given so glorious an afterlife, that the tears of earth will be long forgotten:
And there shall be no more curse, but the throne of God and of the Lamb shall be in it, and His servants shall serve Him. They shall see His face, and His name shall be on their foreheads. There shall be no night there: They need no lamp nor light of the sun, for the Lord God gives them light. And they shall reign forever and ever.
Rev 22:3-5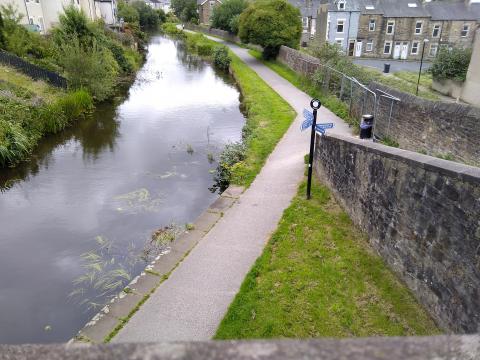 The steps down to Lancaster Canal, the path this troubled man took