Family Lessons 14: Goat Gap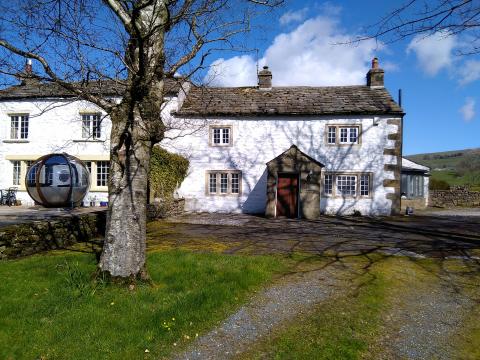 On the A65 between Ingleton and Clapham, is a pretty group of buildings called Goat Gap. They used to be an inn, and before that a farm. In Ghost Trails of the Lake District and Cumbria, Clive Kristen records there unseen hands turning on taps in the bedrooms, the sounds of children playing and reciting nursey rhymes in the night, and the ghost of pensive 'George' sitting by a downstairs window, staring straight ahead. Ghostly goings-on at pubs and hotels have always proved a hit with the punters, if not staying guests.
I do not believe that dead folk linger about, reciting rhymes or gazing out of windows. They are too busy answering for their crimes or praising the gracious God who saved them. Whatever causes these strange hauntings, if they happen at all, is conjecture. Whereas paranormal writers would have us think of this old house as a dark abode of ghouls and lost souls, I think it is a place of light and life. The Ingleton Archaeological Society has transcribed some of the old occupants' wills, a couple of which demonstrate evidence of genuine Christian life:
William Battersby's, 1665:
I Freely give my Soule into the merciffull hands off Allmighty God my maker hopeinge that by & Through the merits & bloodsheding off Jessus Christ my saviour & Redemer after this liffe ended I shall be made partaker of everlastinge Joyes in the kingdom of heaven and for my Temporall estatte I give & bequeath…
John Armitstead's, 1684:
… being sick in bodie but of perfict memory thankes be to Almighty God, & caling to remberance the uncertainty estat of this Transotery life & that all flesh must yield unto death when it shall pleas God to cale, doe make constitut ordaine & Declare this my last will & Testament
Furthermore, this old house was the place of my 4x great grandfather's birth, Robert Grime, in 1793. Too often we see darkness and omens where we should see light and life. When the Lord Jesus strolled across the lake, the disciples were quick to reckon Him a phantom or ghost. If only they had recognised Him for who He truly was- the great Creator and the light of the world.
Stop looking for ghosts and hauntings. Seek Him who conquered the grave! Seek the new birth, without which you shall not see the kingdom of God.