Family Lessons 18: Many Children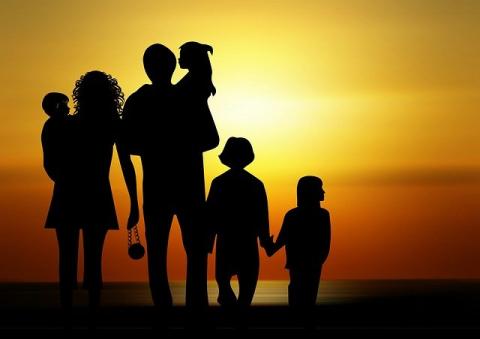 My 8x great grandfather was one Thomas Dilworth, born at Lancaster in 1660, dying at Chipping 66 years later. He must have been a virile fellow, for having fathered 17. Smart readers may have guessed he had more than one wife, for she, bearing Eve's legacy, would not have survived so many agonising deliveries. Yet it was not his physical procreation for which he might be remembered, but spiritual. Bradley Hall, where he lived, was licensed for Quaker meetings in 1689. Seventeenth century Quakerism was rather more evangelical and biblical than its modern stepchild. He might have brought more than 17 people to the Lord through his long witness to the truth. In 1680, he had been fined five shillings, along with 35 others, for engaging in unlawful worship. This suggests he was no fair-weather Christian, but a man who would do anything in the service of his Lord. He may have brought more to the second birth than the first.  
You may have no biological children, but the Lord would have you be mother or father to others in the faith. For them you may provide shelter, counsel, comfort and love. In the tenth of Mark, the Lord Jesus proclaims:
"Assuredly, I say to you, there is no one who has left house or brothers or sisters or father or mother or wife or children or lands, for My sake and the gospel's, who shall not receive a hundredfold now in this time—houses and brothers and sisters and mothers and children and lands, with persecutions—and in the age to come, eternal life".
Those houses shared in this life- what are they, but where you live right now? Those mothers and brothers, who are they, but you? Those children, who are they, but the lonely, the oppressed and the weak in our churches?
"Feed my Lambs".
Image by Here and now, unfortunately, ends my journey on Pixabay from Pixabay