Flame Azalea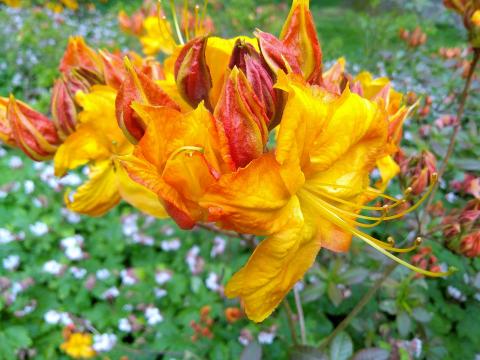 The Azalea is called the "thinking of home bush" (sixiang shu) in traditional Chinese culture. Photographed above is the Flame Azalea, a name for which no explanation is required. As the dark nights lengthen and the temperatures lower, the open fires and log-burning stoves once again assume their homely connotation. I often find myself watching the flames with an intensity and fascination the TV could never rival.
The Lord Jesus, when the Biblical writers glimpse His glory, is thus described: 'His eyes were like a flame of fire' (Revelation 19:12, though the expression occurs thrice in that book). The Hebrews of old employed similar language in Exodus 24:17: 'The sight of the glory of the Lord was like a consuming fire on the top of the mountain in the eyes of the children of Israel.'
Fires are not just a symbol of our earthly homes in this chill winter, but He who has gone to prepare for us a heavenly home, to which one day we shall each be called.
For we know that if our earthly house, this tent, is destroyed, we have a building from God, a house not made with hands, eternal in the heavens. 2 Cor. 5:1