Foxgloves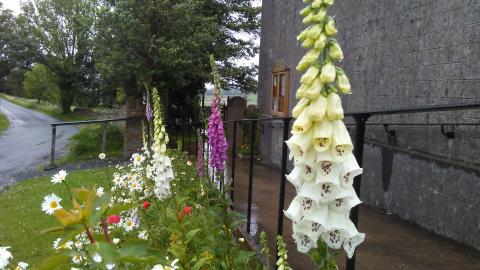 Foxgloves are quite possibly my favourite flower; I first saw one growing on the banks of Kendal's River Kent. My mother pointed it out, remarking on its gorgeous colour and poisonous qualities. This second detail gripped my five-year-old imagination and I have loved the plant ever since. 
Last year, we had none flowering in our chapel's little wildflower border. This year, we have over half a dozen. I dug them up from my borders at home and popped them in the Salem soil. I planted them last year, but they remained indolent. Foxglove is biennial, neither an annual (living just one year) nor a perennial (never dying off). The mother plant drops thousands of tiny seeds, some of which germinate that same summer and grow a little. They sit dormant during the winter but come early summer, they sprout a tall spike upon which bud many beautiful, finger-shaped flowers. 
The 2019 crop will continue this two-yearly cycle; thousands of seeds will drop to the ground; many will grow into plants which remain small and unattractive. When the right season returns, they will quadruple in size and produce dozens of gorgeous blooms offering pleasure to passing walkers, motorists, bees and pastors. 
When we share the good news with people, we often bemoan the lack of response despite our many attempts. When some do accept and show interest, so little seems to happen after the initial success. May we learn a lesson from the foxglove: growth and beauty come in due season. 
So shall my word be that goeth forth out of my mouth: it shall not return unto me void, but it shall accomplish that which I please, and it shall prosper in the thing whereto I sent it.
-Isaiah 55:11