Fragrance from Filth
Chapel friends kindly gave me a tub containing four flowering hyacinth bulbs. Three were opened, one was in bud. Sadly, as I went around a corner, the tub rolled over in the car and the fourth flower was decapitated. I popped it in a glass of water, and sure enough the flowers are opening up. The scent, however, is barely discernible. I'm guessing that these flowers need the nutrients of the compost to generate that gorgeous aroma.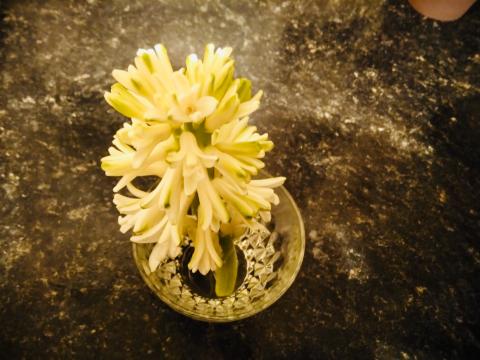 Plant compost is decayed material, and not especially attractive to see. But those wonderful nutrients such as nitrogen, phosphorus, and potassium are found within it. Furthermore, useful minerals such as sulphur, carbon, magnesium and copper are also there within. Water alone, however clean, cannot give the plant all it needs. Hyacinths can of course grow in only water, but only if their flowers are attached to the bulb, which has already been filled up with composted nutrients. My lopped off flower bud lacked even that.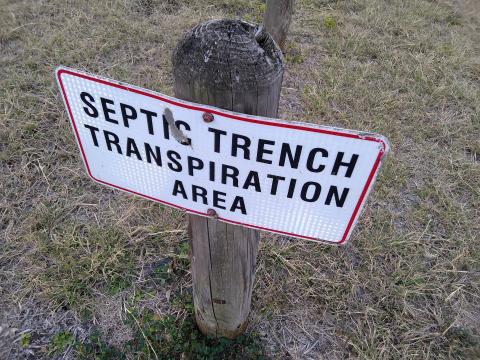 In Australia last summer, most of the ground was dry and brown on account of the drought. We pulled over for a toilet stop, to see a green strip of lush grass close by. How it stood out! A warning sign fended off the curious, stating 'Septic Trench Transpiration Area'. Effluent from the loos is pumped to this area and stored underground. This rich, fertile water and dung breathes new life into the grass and dock plants above. Unlike the surrounding areas, the strip was a veritable jungle of foliage and greenery.
The apostle tells the Roman church:
We also glory in tribulations, knowing that tribulation produces perseverance; and perseverance, character; and character, hope. (5:3-4)
Life is full of foul filth and stinking dirt; God does not shield us from it. Instead, He uses it as fertiliser that we may grow and flourish, bear fruit and multiply. Like the three good hyacinth bulbs spreading their lovely scent through my home, so God
'…through us diffuses the fragrance of His knowledge in every place'. (2 Corinthians 2:14)
The most fragrant Christians are those who have been in the most dirt.