Furness Abbey
The Abbot of Furness in Lancashire was once one of the country's most powerful men. His abbey was the second richest in England, controlling all the surrounding country as well as estates in Ribblesdale on the slopes of Whernside and Ingleborough, his estates going as far as Gargrave. The abbot enjoyed the powers of a feudal baron, presiding over his own court in Dalton-in-Furness, as well as having a seat in the House of Lords. He built his own castle on Piel Island and controlled more wealth than an average noble. One abbot, Alexander Banke, expelled the villagers of Sellergarth just before Christmas in 1516 in order to create a deer park in which he might go hunting.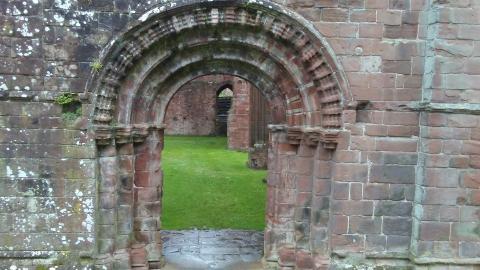 Go to visit the abbots' lair today and you'll enjoy beautiful, atmospheric ruins. The warm, red sandstone, though weathered, has retained some of its original tracery and fine carvings. The cloister around which the powerful monks would have walked can be clearly seen as well as the spacious infirmary and kitchens. One can identify the abbot's house with its own private water closet, the contents of which fall into a stream, taking them and their smell away from his lordship's gentle nostrils. Despite the romantic impression such a place gives visitors, one cannot escape from the stark fact that the abbots are no more and the powerful, wealthy abbeys themselves are all gone.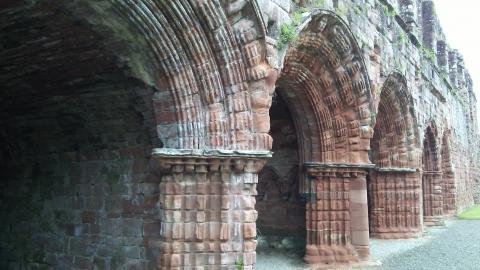 The ruins of Furness remind us that power and wealth evaporate as quickly as they precipitate. This once mighty bastion of authority and prestige is a quiet tourist attraction and haunt of thrushes and swifts. Consider the powerful institutions and people about today; they too occupy no more than a mirage, for their citadels will one day be as ruinous as any on the Furness peninsula.
"Arise, go up to the wealthy nation that dwells securely," says the Lord,
"Which has neither gates nor bars, dwelling alone.
Their camels shall be for booty,
And the multitude of their cattle for plunder.
I will scatter to all winds those [k]in the farthest corners,
And I will bring their calamity from all its sides," says the Lord.
"Hazor shall be a dwelling for jackals, a desolation forever;
No one shall reside there,
Nor son of man dwell in it."
Jeremiah 49