Garstang: Emmett's Prayer for Future Blessing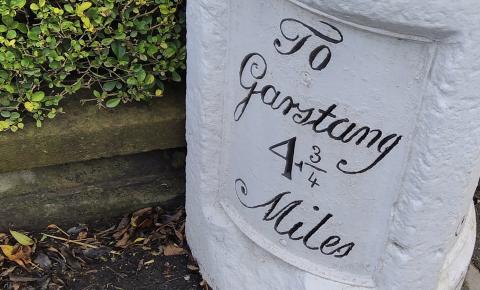 I was recently given a tour of Garstang Free Methodist Church. I was baptised there aged 12, so I have a fondness for it. Providence has been kind; its blessed coffers have paid for an impressive renovation with no expense spared. Still, one item attracted my attention more than the advanced sound desk, thick-pile carpets and comfortable, modern chairs. In a small prayer room, perhaps unfrequented by the church's majority, is a hand painted map of the locality. It's naïve in its style, but charming in its simplicity.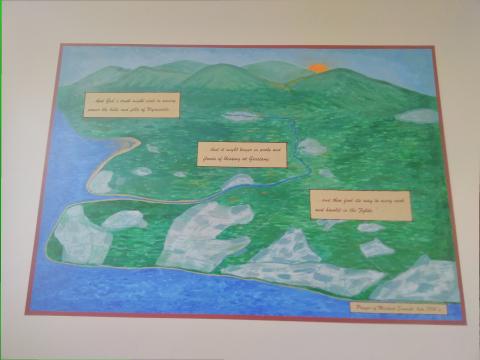 Upon it is written the words of a prayer by one Michael Emmett, in the late eighteenth-century. In Garstang, it is said
He rode up to the obelisk in the market-place, and while 
men were selling their potatoes, and grain, and produce, 
he preached Christ with great plainness and power. Many 
consciences were aroused, and many hearts were touched, 
and tidings of that sermon were carried to Pilling and 
Poulton, and every part of the Fylde. 
At the close of the sermon a gentleman, well known at the 
time as " Quaker Jackson," spoke kindly to the preacher, 
thanked him for his sermon, and gave him half a guinea. 
Michael Emmett said, "Friend, I do not preach for money." 
The kind-hearted Quaker smiled and replied, "No, but 
thou cannot pay thy toll bars and keep thy horse without 
money. Keep it, lad, and go on with the work thou hast 
so well begun."
John Taylor (1885), The Apostle of Fylde Methodism
The prayer of this great man, the words of which still hang in his spiritual heirs' church, reads:
That God's truth might visit in saving power the hills and fells of Wyersdale, that it might linger in pools and floods of blessing at Garstang and then find its way to every nook and hamlet in the Fylde.
I think Garstang Free Methodist Church, with its fancy new furniture and splendid extension, chiefly exists because a gracious God honours the prayers of yesterday's saints. Perhaps Salem Chapel still stands in honour of a former generation's entreaties to heaven. God may not appear to respond to prayer, but He is eternal, and will answer in His own time- which may be many years after our time.