Gingko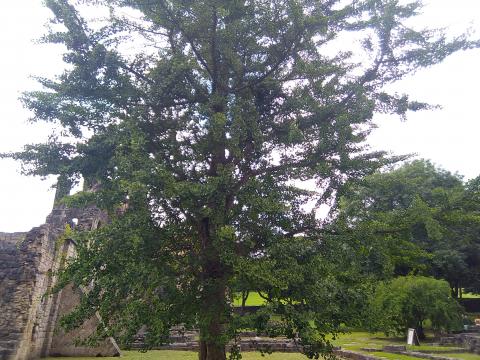 This Ginkgo tree I found growing in the grounds of Kirkstall Abbey. Its unusual leaves are fan-shaped with veins radiating out into the blade. Biologists consider it to be a 'living fossil', seeing as they reckon it was extant over 290 million years ago. Those of us who find such numbers hard to believe might be better impressed by the six gingkoes which survived the nuclear bomb dropped on Hiroshima in 1945, being situated only a mile or so from 'ground zero'. The Japanese, desperately seeking hope after the total defeat, refer to the tree as 'the bearer of hope'. Amidst all that death, those charred gingkoes were the only living things to survive- and they continue growing this day.
Somehow, when Christ returns, all that is worldly and sinful will be burned up by the brightness of His coming; only those with gospel life will survive the blast and live thereafter.
But the day of the Lord will come as a thief in the night, in which the heavens will pass away with a great noise, and the elements will melt with fervent heat; both the earth and the works that are in it will be burned up. Therefore, since all these things will be dissolved, what manner of persons ought you to be in holy conduct and godliness, looking for and hastening the coming of the day of God, because of which the heavens will be dissolved, being on fire, and the elements will melt with fervent heat?
1 Peter 3:10ff (NKJV)