Godly Houses: Cunliffe of Sparth and West of Middleton
When I was growing up, I would often hear people at church complain that weren't enough Christians in Parliament. There was once a time when Christians made up the whole of Parliament. Few have heard about it, for it did not last long. According to S.R. Gardiner, Cromwell's Council wrote to all the Congregational churches in England, asking them to supply representatives whom he would appoint to sit in London as part of a 'nominated assembly'. It was originally planned to cap its membership at 70 so it might resemble the Jewish Sanhedrin (a rather unfortunate comparison, methinks), but 140 was originally settled to make it more representative. It is known to history as Barebone's Parliament, after the leather-seller Fear-God Barebone, whose name the assembly's detractors enjoyed mocking. 
Cromwell's inauguration speech's opening words were "God doth manifest it to be a day of the Power of Jesus Christ". At last, the called people of God were now in control of the nation, rather than being a persecuted minority.
There were three representatives for Lancashire, and I visited two of their homes last week. Robert Cunliffe lived at Sparth Manor (below), in Clayton le Moors, between Accrington and Whalley. He was a member of Thomas Jollie's Congregational Church at Altham, and his death is noted by Jollie in the Church Book:
December 4th, 1653. Died, Mr. Robert CunlifTe (sic), Member of 
the High Court of Parliament, Justice of the Peace, and member 
of this Church. He valued himself more on the last account 
than the other, and first lived desired and died much lamented.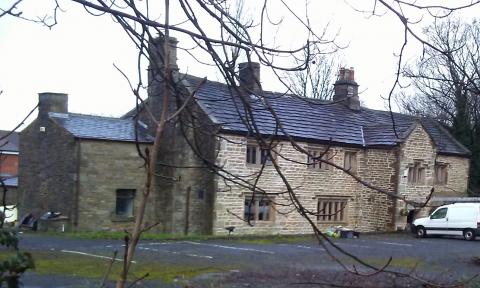 A man who valued membership of the Church of God greater than the parliament must have been a terrible loss- to both institutions. Doubtless, he would have known well Charles Worsley of Park Head who also worshipped at Altham.
William West, the second member, lived at Middleton near Heysham. The oldest house, and probably the manor house, is below, where I conjecture he lived. Like Sparth, it was until recently a popular pub (The Old Roof Tree) but has since been divided into dwellings. I'm not sure where the local Independent church would have been in Lancaster, but West went on to become Mayor of the town and was re-elected to Parliament in 1660. So although he must have abandoned his earlier republicanism and Independency, he still campaigned 'for the suppression of Popery, superstition, profaneness and other disorders and innovations in worship and ceremonies'.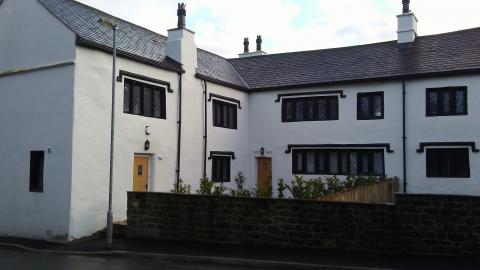 Two closed-down pubs, once the homes of godly men, members of the only English Parliament whose membership was solely comprised of evangelical Christians.
For who knoweth what is good for man in this life, all the days of his vain life which he spendeth as a shadow? for who can tell a man what shall be after him under the sun?
Ecclesiastes 6:12
Great men, and judges, and potentates, shall be honoured; yet is there none of them greater than he that feareth the Lord. Ecclesiasticus 10:24