God's Workers, Crowland Abbey
I called at Crowland Abbey last week, part parish church, part ruined monastery. Carvings of Saint X, King Y, Bishop Z are still to be found, but it was another carving which tickled my fancy. It was William of Wermington, and his eyes peered back at me with a certain confidence. He was neither nobleman nor cleric, but a stone mason, laid to rest in the very church he helped build. The burial slab was discovered, broken, in 1887 and put back together and displayed.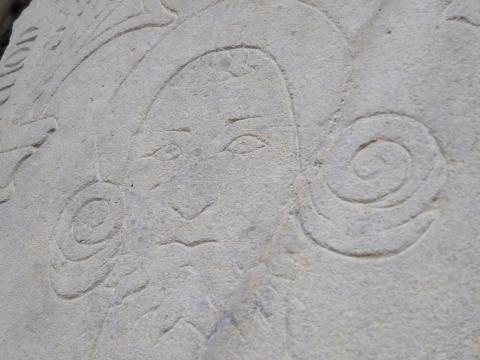 An inscription in its margins reads:
ICI: GIST: MESTRE: WILLM: DE: WERMIGTON: LE: MASON: A: LALME: DE: KY: DEVY: P. SA: GRACE: DOVNEZ: ABSOLVTION
Translated:
Here lies Master William of Wermington, the Mason, on the soul of whom, God of His Grace give absolution.
William holds a T-square and a set of compasses, the stylised tools of the mason's craft. He was not quite an ordinary person; a mason was a skilled craftsman who might command an impressive wage. Unlike the many corbels and gargoyles of Lincolnshire's churches which also depict the heads of ordinary folk, this funerary stone puts a name to the face. Here is man who lives in neither castle nor palace. He worked with his hands, living off that labour, not the rents and toil of others. Oh, and he helped build a magnificent church. I suspect that William or one of his men made the tombstone; the likeness, though artistically pleasing, looks real.
The words on his tomb might have been standard issue, glibly carved on every slab, or they might bespeak a real, saving faith, depending upon God's unmerited kindness rather than the average Catholic's accumulation of masses, almsgiving and piety. He does not even ask others to pray for him, perhaps understanding that grace would suffice.
Although in the coming years, abbots, bishops and kings would all reside or visit Crowland, William could look at it as something he had actually helped to build. I sometimes arrive early at our chapel ahead of a service, and reflect on the many folk who went before. They helped to build, maintain and strengthen the chapel, bequeathing it to our generation. Likewise, many preached, shared the scriptures, offered prayer and brought in the lost. Most of their names and faces, unlike William's, are lost and forgotten. Yet the God of heaven remembers what they do. God chooses to use not cherubim and seraphim to build up his Church, nor often the great and powerful. He chooses to use the Williams, the Toms, the Dicks and the Harrys. For His glory, He seeks to employ the Sharons, the Traceys, the Taras and the Debbies. He chooses to use you and me.
But God hath chosen the foolish things of the world to confound the wise; and God hath chosen the weak things of the world to confound the things which are mighty. 1 Cor 1:27