At the going down of the sun
One afternoon last week I walked up the hill behind the village to watch the sun go down, a beautiful display of pink and peach and apricot to which my camera totally fails to do justice.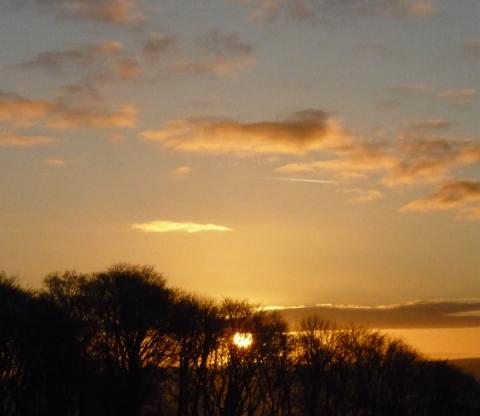 What will it be like, I wondered, on that day of judgement when 'they will see the Son of Man coming on the clouds of heaven with power and great glory' (Matthew 24:30); when 'every eye will see Him' (Revelation 1:7)? On that day when 'the lawless one will be revealed, whom the Lord will consume with the breath of His mouth and destroy with the brightness of His coming' (2 Thessalonians 2:8)?
There have already been faint glimpses of that brightness: "We beheld His glory," said John; "We were eye-witnesses of His majesty," remembered Peter; "A light from heaven, brighter than the sun," testified Paul. Can you not hear the awe and wonder in their voices?
But the full shining of the glory we have not yet seen, that glory so bright it will light the new heavens and the new earth, for 'the city had no need of the sun or the moon to shine in it, for the glory of God illumined it, and the Lamb is its light.' (Revelation 21:23)
Let us make sure we are ready for His coming, and live in the expectation of that day! 
For the grace of God that brings salvation has appeared to all men, teaching us that, denying ungodliness and worldly lusts, we should live soberly, righteously, and godly in this present age, looking for the blessed hope and glorious appearing of our great God and Saviour Jesus Christ, who gave Himself for us, that He might redeem us from every lawless deed and purify for Himself His own special people, zealous for good works. (Titus 2:11-14)
It may be at morn, when the day is awaking,
When sunlight through darkness and shadow is breaking
That Jesus will come in the fulness of glory,
To receive from the world His own.
O Lord Jesus, how long?
How long ere we shout the glad song?
Christ returneth, Hallelujah!
Hallelujah! Amen
It may be at midday, it may be at twilight,
It may be, perchance, that the blackness of midnight
Will burst into light in the blaze of His glory,
When Jesus receives His own.
While hosts cry Hosanna! From heaven descending,
While glorified saints and the angels attending,
With grace on His brow, like a halo of glory,
Will Jesus receive His own.
Oh, joy, oh, delight! Should we go without dying;
No sickness, no sadness, no dread and no crying;
Caught up through the clouds with our Lord into glory,
When Jesus receives His own. 
H L Turner