Good Bye, Thomas Cook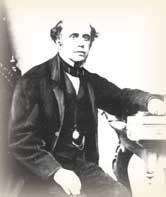 I have a particular sympathy for those British travellers stranded abroad on account of travel agent Thomas Cook's collapse. They are currently being offered alternative flights home, though the company's staff may receive little help. I took my Australia trip through Cook this year, only a month before it went bust, and I flew to Jerusalem with Monarch Airlines in August 2017 which also collapsed the follow month. I'm glad I'm not superstitious.
Mr Cook, the firm's founder, began his travel company selling excursions to members of the temperance movement in 1841, branching out to seaside trips and excursions to the Great Exhibition. Soon, his brochures advertised stays in the newly unified Italy in the 1870s and exotic Nile cruises in the 1880s. More impressively still, Cook was a committed Baptist Christian. He served as a missionary and village evangelist distributing tracts and promoting Bible reading. Like many businesses started by Christians, his reputation for honesty and integrity allowed his customers to feel safe and secure on their travels. "What a glorious thing it would be if the newly developed power of the railway and locomotives could be made subservient to the cause of temperance," he is recorded saying. Saving up money for interesting jaunts and foreign travel was, he argued, far more worthwhile than wasting it on booze and liquor.
The Civil Aviation Authority is now coordinating the biggest repatriation of British citizens in peacetime. One wonders how it all went so wrong. The firm's debts were more than £300 million, and its after-tax loss was a massive £163 million. Still, £8.3 million was easily found to remunerate its Chief Executive since 2014 (Daily Mirror). Thomas Cook Group plc evidently outgrew Thomas Cook's financial prudence and Christian values. As Alison Maloney wrote in yesterday's Sun:
And in an ironic twist the man who spent a lifetime preaching against the demon drink is the architect of the boozy package holidays that millions of Brits have taken over the years.