Grassington Congregational Church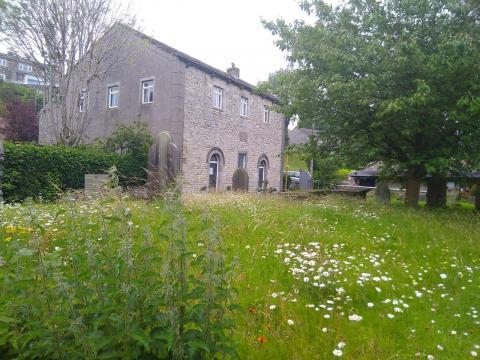 In 1965, the minister here at Salem Chapel felt God's call eastwards to Grassington, where he led the congregational church there. That chapel is a little older than ours (1811) but has continued to be a witness to that village and its current minister, whom I know in another capacity, is a well-known local figure; his sometime role in the village's Christmas pantomime I once enjoyed. 
The chapel's founding membership covenant is a rather impressive document, moving in its godliness, inspiring in its fervour and exemplary in its tone: 
"We who by nature were sinners ready to perish, having by the good Spirit and abundant grace of God been led to see our dreadful state by nature as fallen in Adam and far from God; and having, we trust, tasted of the grace of God in converting, promised and communicated Mercy; we do sincerely, unfeignedly, and without reserve, desire to give up ourselves to the Lord and to each other; to walk together in all the commandments and ordinances of the Lord blameless, to watch over one another in love, to exhort with diligence, rebuke with meakness and without partiality, and to pray for and seek the edification of each other in all things pertaining to life and godliness."
"We profess ourselves to be of that persuasion which is generally called Calvinistic, tho' we call no man Lord or Master in what we profess, but receive the whole word of God as the rule of our faith and the test of our experience. The Assembly's Catechism comes the nearest to our sentiments of any published opinions, as having a tendency to humble the sinner, exalt the Saviour, and promote holiness in heart and life."
"With respect to our church government, we call ourselves Independents or Congregationalists, readily receiving the advice of any other similar society if we see that we need the same, but not to be under the jurisdiction of any other person or society whatever."
I have never attended a service at the 'G-Town' chapel, so I cannot comment further, but if the church has kept true to its founders' sentiments, it cannot go far wrong.