Green Thoughts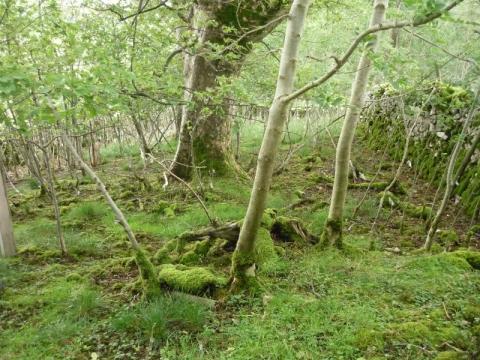 'A green thought in a green shade.'  That's a line from a poem by Andrew Marvell, one of the Cavalier Poets of the seventeenth century.  A friend quoted it as we were walking along the leafy lane to town one morning.  It wasn't particularly sunny; no shafts of golden light piercing the canopy overhead, no dappled shadows.  Just a quiet coolness, a swimming in green translucence, which suited the quotation perfectly and which I have observed many times since.
Afterwards I found myself pondering 'green thoughts'.  Here are a few; I'm sure you can think of more.
Blessed is the man who trusts in the Lord, and whose hope is in the Lord.  For he shall be like a tree planted by the waters, which spreads out its roots by the river, and will not fear when heat comes; but her leaf will be green, and will not be anxious in the year of drought, nor will cease from yielding fruit.  (Jeremiah 17:7-8)
Of course, the greenness of the tree's leaves in times of adversity depends on where it is planted and what its roots are feeding on. Just so the greenness of my life, or yours, will depend on what foundation we are building on, and on what feeds our souls.  Are we building on the Rock, and feeding on His word, or building on sand and feeding on the world?
Here is an encouragement to continue steadfastly throughout life:  The righteous shall flourish like a palm tree, he shall grow like a cedar of Lebanon.  Those who are planted in the house of the Lord shall flourish in the courts of our God.  They shall still bear fruit in old age; they shall be fresh and green, to declare that the Lord is upright; He is my rock, and there is no unrighteousness in Him.  (Psalm 92:12-15)
Green thoughts can carry a warning too:  Can the papyrus grow up without a marsh?  Can the reeds flourish without water?  While it is yet green and not cut down, it withers before any other plant.  So are the paths of all who forget God; and the hope of the hypocrite shall perish, whose confidence shall be cut off, and whose trust is a spider's web.  (Job 8:11-14)
Above all, I think of John's vision of the throne of God in heaven:  … One sat on the throne.  And He who sat there was like a jasper and a sardius stone in appearance; and there was a rainbow around the throne, in appearance like an emerald.  (Revelation 4:3)
Holy, awesome, of purer eyes than to look upon iniquity, how could a vile, sinful human being dare even to contemplate approaching such a One?  Without the cross, where the Lord Jesus took the punishment justly due to me, without His perfect life whereby He earned a place in heaven for me, it would be impossible.  But He is the propitiation for my sins, He has drained the cup of God's wrath which I deserved – and now the golden sceptre is held out to me, and I may come.  So around the throne is an emerald rainbow, the promise of God's mercy for all who repent of their sins and come by faith to the Saviour.  Surely that is the most precious of all 'green thoughts'!
Give me the wings of faith to rise
Within the veil, and see
The saints above, how great their joys,
How bright their glories be.
Once they were mourning here below,
With sighing and with tears;
They wrestled hard, as we do now,
With sins and doubts and fears.
I ask them whence their victory came;
They, with united breath,
Ascribe their conquest to the Lamb,
Their triumph to His death.
They marked the footsteps that He trod,
His zeal inspired their breast,
And, following their incarnate God,
Possess the promised rest.
Our glorious Leader claims our praise
For His own pattern given;
While the long cloud of witnesses
Show the same path to heaven.
Isaac Watts