Gummer's How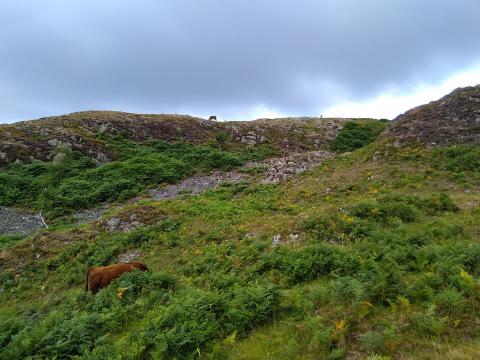 This week, I ascended Gummer's How. This is a relatively small foothill to Windermere's south. Though unable to compete with its giant neighbours in terms of size, it can rival them with its views. From its summit, one beholds miles' worth of Windermere and the northern mountains, yet in the other direction one may see the River Kent and Morecambe Bay. If anything, Gummer's How is a great advertisement for the bigger fells, as it enables one to see them in their collective majesty. Many folk were simply sitting at the top, peering down and around at the wonder of English Lakeland.
In the late seventies, we had a big family walk up Gummer's, including relatives who, when I was growing up, I could barely imagine walking anywhere. At the top they were photographed, grinning triumphantly in their trendy blue cagoules. Our trek this week was made all the pleasanter knowing we followed in the footsteps of kin.
Christians in every age have metaphorically climbed Mount Nebo, and seen brief glimpses of the heavenly promise. Though we view it from afar and through strained and squinting eyes, we can detect a wondrous beauty in that which God has promised His people after their deaths. Not only do we see hints of glory, but we take that path which every previous generation of saint has trod:
Then Moses went up from the plains of Moab to Mount Nebo, to the top of Pisgah, which is across from Jericho. And the Lord showed him all the land of Gilead as far as Dan…Then the Lord said to him, "This is the land of which I swore to give Abraham, Isaac, and Jacob, saying, 'I will give it to your descendants.' I have caused you to see it with your eyes, but you shall not cross over there." Deut 34:1-4
Unlike Moses who was prevented from entering Canaan, the Christian will certainly enter the heavenly city, even though he cannot currently comprehend nor appreciate its supernatural grandeur.