Hampsfell Hospice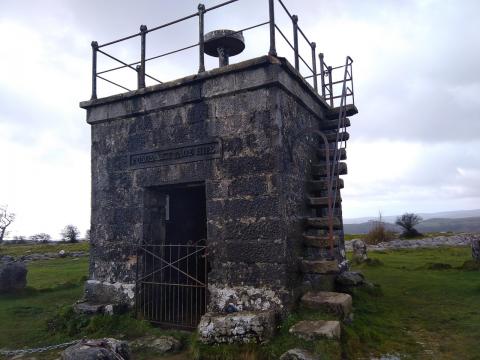 This week I received welcome respite in a hospice. No, I haven't cancer and this was no medical establishment with warm-hearted staff and beautiful roses. It was a shelter from the wind.
I had set off after the worst rains from the Grand Hotel where I had been lodging in Grange-over-Sands. Walking up through the woodland and then up into Eggerslack woods, I ascended Hampsfell, the large hill overlooking the town. While among the trees, I regretted my jumper and waterproof trousers, for I was sweating like a hog roast. Once out onto the hilltop, however, I shivered like a shorn ewe, for the wind was strong and nippy. A lady jogger, resplendent in a purple tracksuit, was whistling a tune from a quarter mile away, which the rushing wind carried down to my ears.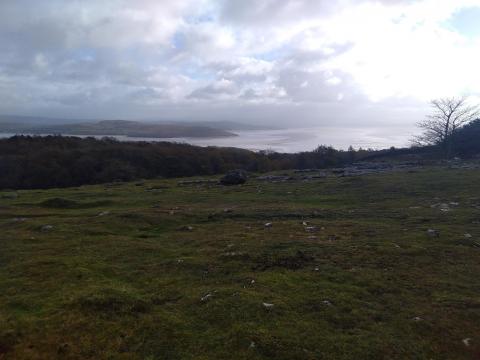 The 'hospice' is a shelter erected by a Cartmell vicar in the 1840s, so weary walkers might rest awhile from the gales and gusts. And what a welcome shelter it was! Without, impossible to stand still or straight; within, a gentle place of repose and tranquillity, to which the glazed windows must contribute much. Atop the hospice, via the world's most dangerous and unappealing staircase, is a circular table which helps identify visible Lakeland mountains. It was spinning in the wind and I dared not release my grip from the safety bars, such as they were. I soon retired back downstairs for some quieter contemplation.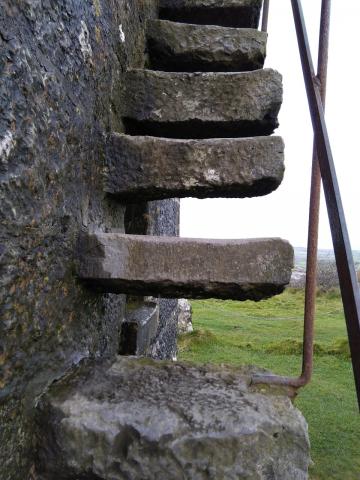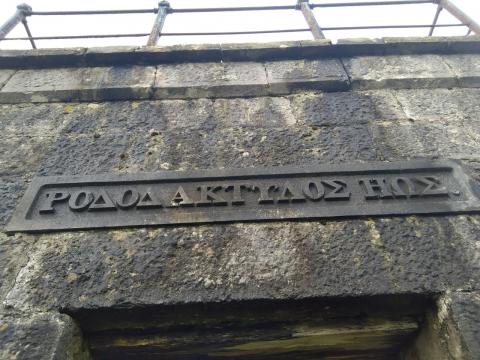 I was a little disappointed that the building's patron had seen fit to carve above its doors some Greek lettering from Homer ("Rosy-fingered dawn"), doubtless showing off his knowledge of the classics. Surely a Biblical reference would have been helpful? Inside, however, were a few antiquarian notices and regulations, some not without wisdom nor Biblical principle:
O God! O Good beyond compare!
If this Thy meaner works are fair,
If thus Thy bounties gild the span
Of ruin'd earth and fallen man,
How glorious must the mansion be,
Where Thy redeemed shall dwell with Thee!
-based upon words by Reginald Heber (1783-1826). If his spiritual poetry proves too sublime, on the opposite wall was written:
TAKE NOTICE
ALL PERSONS VISITING THIS HOSPICE BY PERMISSION OF THE OWNER
ARE REQUESTED TO RESPECT PRIVATE PROPERTY, AND
NOT BY ACTS OF WANTON MISCHIEF AND DESTRUCTION SHOW
THAT THEY POSSESS MORE MUSCLE THAN BRAIN.
I HAVE NO HOPE THAT THIS REQUEST WILL BE ATTENDED TO,
FOR AS SOLOMON SAYS "THOUGH THOU SHOULDST BRAY
A FOOL IN A MORTAR AMONGST WHEAT WITH A PESTLE
YET WILL NOT HIS FOOLISHNESS DEPART FROM HIM".
G. REMINGTON
This is a reference here to Proverbs 27:22, mixed with some dry Lancastrian realism.
And what of 'hospice'? Well the word was used for Alpine shelters constructed by monks for wayfarers, so the Cartmel parson named it well enough. Etyonline suggests that it derives from the Old French ospice from where we also get "hospitality", from Latin hospitium "hospitable reception, entertainment; hospitality, bonds of hospitality, relationship of guest and host". Someone unfortunate enough to reside in a more modern hospice is certainly on their travels, leaving this world for the next.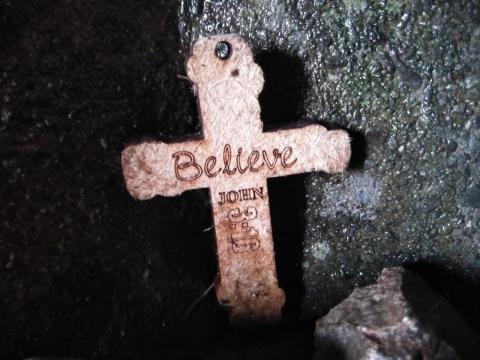 If the witty and inspiring words within the shelter compensated for the sentimental Homeric ones without, I was gratified still by a little wooden cross which someone had deposited on a window ledge, supported by pebbles. On it was written Believe John 3:16. For those unfamiliar with the text, I quote it in full:
For God so loved the world, that he gave his only begotten Son, that whosoever believeth in him should not perish, but have everlasting life.
Life is a blustery battle, a dangerous contest to keep standing and not be swept away. Before we end up in palliative hospice- or, worse, dying suddenly without one- may we take refuge in the Gospel. Those who believe in Christ, though buffeted and bruised, will be never blow away, for their souls are safely anchored, their foundation altogether secure.
For in the time of trouble he shall hide me in his pavilion: in the secret of his tabernacle shall he hide me; he shall set me up upon a rock. -Psalm 27:5