Harbour Chapel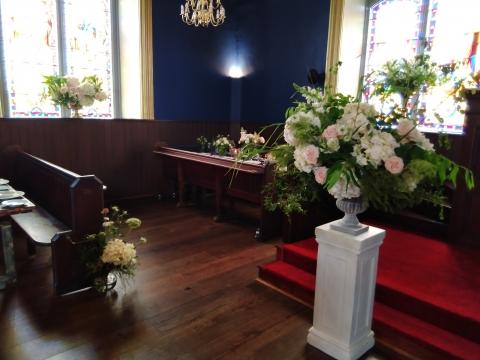 Church Open Day. All welcome.
Thus read the sign outside Dunbar's Methodist church. In addition, there was all the usual instruction about masks and distancing. I availed myself of the invitation. It was the first Methodist church north of the border and one at which the Wesley brothers preached over twenty times. Wrote John in 1770:
"At the evening I preached at the new house at Dunbar, the cheerfullest in all the kingdom."
Well, I was wowed by its interior. It was painted a dark blue and gold. A huge, dark oak pulpit dominated the room and huge sprays of white flowers were everywhere. A physically impressive man, wearing full beard and kilt offered a brief tour. He introduced himself as the architect and owner of the building. The Methodist church had closed down and he had bought it to use it as a wedding venue. Once it was converted into a home, he explained, it would be lost forever. Ceremonies can now be performed in the main sanctuary, guests are then ushered into an adjacent bar, during which time the sanctuary, as was, becomes a tasteful banqueting hall. Clever use of space, beautiful décor, a classy wedding venue. I hope my bearded guide makes a success of it, and gets a return on his money.
I am always saddened when a church closes, especially one with so clear a link to men of Wesley's stature. Yet many chapel pulpits which once preached the gospel of grace have unofficially lapsed into mere wedding venues, and few as tasteful as this. Better a 'non-denominational harbour chapel' than some damp-smelling, half dead social club pretending to be a church. So I wish well the current wedding venue. Yet I hope those couples who respond to God's call to marriage in that place look to their eternal security as well as temporal; Christ the Lover still seeks His beloved among the lost people of Dunbar.