Harrop Chapel: 200 Years On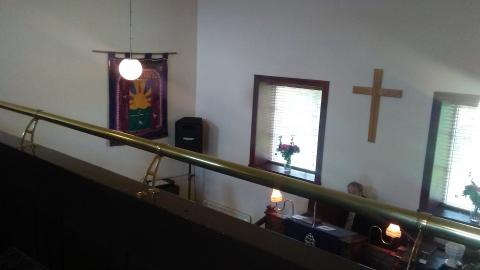 200 years ago today, land was purchased up in the hills betwixt Grindleton and Slaidburn that a chapel might be built. This was completed just over two years later and it joined the Clitheroe Methodist circuit as Harrop Chapel. Last Sunday, I joined it for its bicentennial celebrations, led by Mervyn and Lucy France and supported by Councillor Stella Brunskill, the Worshipful Mayor of Ribble Valley.
Harrop is a queer place, accessed by a single-track road. Its remote location makes our Salem look positively suburban and it attracts folk from far and wide who might have struggled to settle elsewhere. In 1996, it seceded from the Methodist circuit, a response to the state into which late twentieth-century Methodism had descended. The congregation had to 'buy back' their building, but I dare say its remote location helped hold back its market price. To its rear is a small caravan site, offering wonderful views, spiritual food and great fellowship lunches after each Sunday service.
May God bless Harrop Fold Chapel until such time as Christ returns.