He Calms the Storm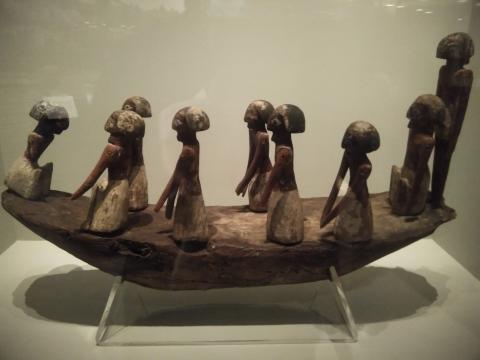 Tombs from Egypt's Middle Kingdom often have wooden models of boats inside them, complete with oarsmen and coxwain. It was believed that such items would provide the dearly departed with a safe passage over the rough seas of death into the peaceable lands of the afterlife. In Psalm 107, describing seafarers in a storm, we read:
They reel to and fro, and stagger like a drunken man,
And are at their wits' end.
Then they cry out to the Lord in their trouble,
And He brings them out of their distresses.
He calms the storm,
So that its waves are still.
Then they are glad because they are quiet;
So He guides them to their desired haven. (NKJV)
If death is the final storm of life, we who believe in the Saviour have no need to fear. Our Jesus stilled the storm and conquered death. With Jesus in the boat, we can smile at the storm; with Jesus out of the tomb, we can wink at the grave.