Hidden Bridges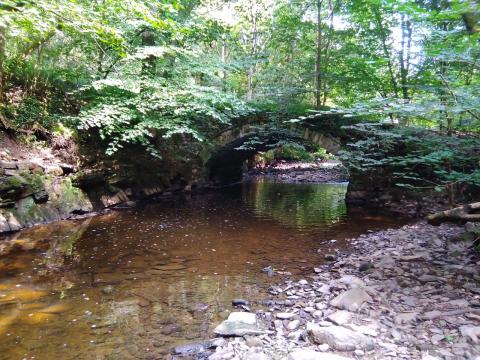 I went walking after church two Sundays ago. I followed what I thought was a public footpath, but on closer inspection of the OS, I may have technically trespassed. C'est la vie. In the woods of Gisburne Park, the old village manor house, now a private hospital and 'venue', flows Stock Beck. This watercourse begins close to Weets Hill, going through Barnoldswick to Gisburn, where it joins the River Ribble. In those woods a larger bridge spans the beck, bearing the road from Gisburn to Long Preston, the A682. Yet almost in its shadow is another, smaller bridge. Its antiquity I can only guess, for I have found no reference to it in my books nor on the internet. I was shown it years ago by a local farmer, who referred to it as the Roman Bridge. I don't think it's as old as that, but I suspect it is far from recent. Growing upon it are hrubs and trees, demonstrating what light usage it receives. I cannot find it listed, mentioned or described. It is a secret bridge.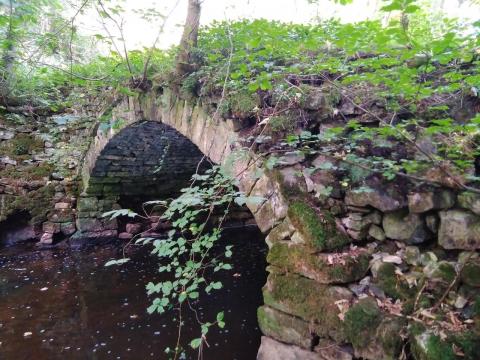 The Sunday after, I went walking between Rimington and Downham. I passed by some woodland, yet it wasn't until my return leg that I saw something concealed in those trees. It was huge, it was impressive. It was another bridge, a viaduct to be precise. It's a significant feature of the Ribble line, yet I had almost walked past it without seeing it. I attempted to get a close view, but could find no public footpaths and my second foray onto private land (sorry) yielded poor results (see below). It is the Swanside Viaduct.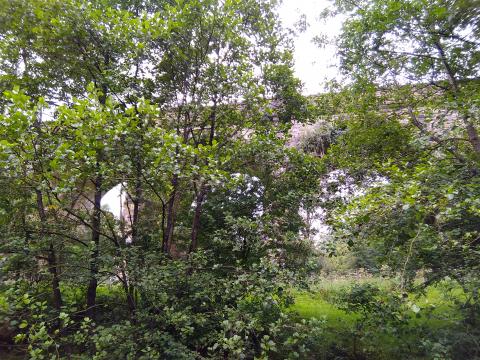 It struck me as odd; here are two bridges, one tiny, one huge, both secreted away by foliage and vegetation. Many have driven past and walked by, in total ignorance of their existence. "So what?", one might ask. Yet a bridge is something to be admired, if not used. It's there, so it must be seen. Like a hill or mountain daring us to climb, so a bridge pleads for us to cross whatever chasm it spans. Here are two, unknown, ignored.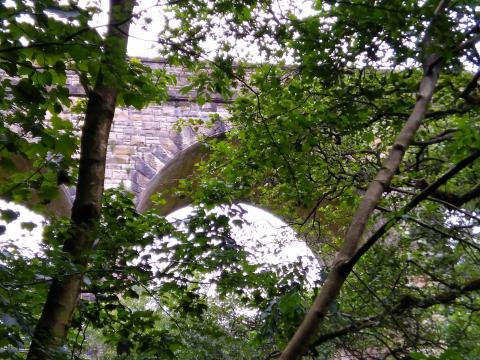 Christ is often called the great bridge to God. Cut off by our sinful rebellion, Christ once more offers us free passage to God the Father and His heaven. Like the Swanside Viaduct and the nameless little Gisburn bridge, His incredible ministry is unseen by the world, ignored by the majority. There are many in hell who rue the day they might have found the great bridge to heaven; of its existence the Bible spoke, but they didn't believe. Of Christ's mercy the church sang and proclaimed, but it fell on deaf ears; every Christian earnestly sought to persuade his friends and neighbours to find it and there cross over, but most didn't listen. 
But we speak the wisdom of God in a mystery, the hidden wisdom which God ordained before the ages for our glory, which none of the rulers of this age knew; for had they known, they would not have crucified the Lord of glory.
But as it is written:
"Eye has not seen, nor ear heard,
Nor have entered into the heart of man
The things which God has prepared for those who love Him."
1 Cor. 2: 7-9
The hidden way to God is now revealed, the mystery of godliness laid open, the flickering hope of Eden realised, the bridge to heaven exposed.
Jesus said to him, "I am the way, the truth, and the life. No one comes to the Father except through Me." (John 14:6)