A hint of heaven in The Burren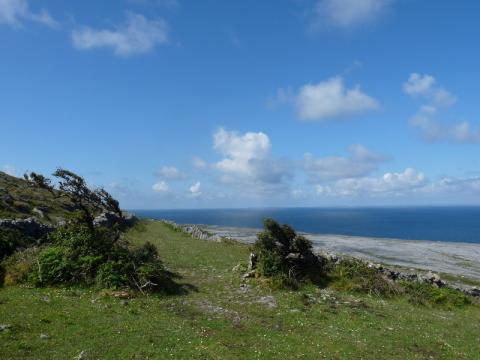 The Burren in County Clare on the west coast of Ireland is a very special place.  Not that every visitor to the area has thought so.  In 1651, one of Cromwell's Lieutenant-Generals, Edmund Ludlow, was sent to the area.  Recalling this later in his memoirs, Ludlow wrote: After two days' march we entered into the Barony of Burren, of which it is said, that it is a country where there is not enough water to drown a man, wood enough to hang one, nor earth enough to bury him; which last is so scarce, that the inhabitants steal it from one another, and yet their cattle are very fat, for the grass growing in turfs of earth, of two or three foot square, that lie between the rocks, which are of limestone, is very sweet and nourishing.
But he was there in November, probably battling through an Atlantic gale, poor man, so he would not have seen the beautiful flowers which make The Burren such a lovely place to visit.  There are two things which make the area so remarkable and so beloved of botanists.  One is that the flowers occur in such abundance.  When I was there in June we were just too late for the Spring Gentians (though we found one in the shade of a rock), but there were rivers of rose-red Bloody Cranesbill, so many orchids that I could understand what botanist Reginald Farrer meant when he wrote that he had had 'a drunken bout of orchids', whole hillsides shimmering silver with the seed heads of Mountain Avens – to name but a few!  The other special thing is that, although the flowers are not unique to The Burren, the mixture of plants that grows there is unique.  Many of them are found in other parts of Britain, but alongside them here, plants of the Arctic tundra such as Mountain Avens, mountain flowers such as Spring Gentian, Mediterranean plants such as Hoary Rock Rose, lime-lovers, lime-haters, all thrive together.  Rather like a little foretaste of heaven!
And they sang a new song, saying: "You are worthy to take the scroll, and to open its seals; for You were slain, and have redeemed us to God by Your blood out of every tribe and tongue and people and nation, and have made us kings and priests to our God; and we shall reign on the earth."
                                                                                                            Revelation 5:9-10
For all the saints who from their labours rest,
Who Thee by faith before the world confessed,
Thy name, O Jesus, be for ever blest.
Hallelujah! Hallelujah!
From earth's wide bounds, from ocean's farthest coast,
Through gates of pearl streams in the countless host,
Singing to Father, Son, and Holy Ghost.
Hallelujah! Hallelujah!
                                                William Walsham How