Holy Socks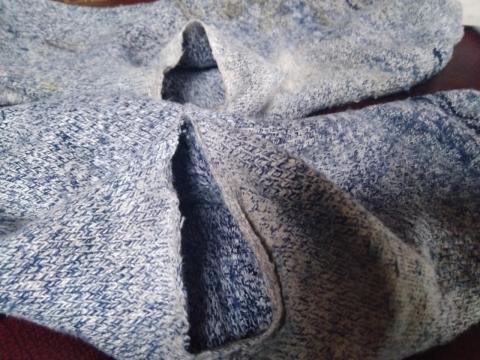 My socks have worn through. Not just any pair, but my one pair of walkers. A better man would have darned them by now, but my skill and patience are wanting. I took the bullet and bought three new pairs for a little under five pounds. An extra walk to chapel will cover the cost in the saved diesel and unused wood for not having heated the house as long.
Since January alone, I have walked well over a hundred miles in them just getting to chapel and back on Sundays and Wednesdays. Wearing these socks, I have ascended Helvellyn, Scafell Pike, Saddleback, Snowden, the Old Man, Ingleborough (x3), Pen-y-ghent, Whernside, Mam Tor and a good portion of Hadrian's Wall. There is also all those other, local walks one does, such as around Gisburn Forest and Pendle.
Never has a man had such a soft spot for a pair of old socks. I feel quite sentimental; I am reluctant to throw them away. Perhaps I could get the framed...No, that is going too far. They'll be used as cleaning rags this spring, though I shall be sorry to don them no more. Why? Because they have always been with me. Pablo Neruda (died 1973) wrote an ode to his socks, which concludes
Beauty is twice
beauty
and what is good is doubly
good
when it is a matter of two socks
made of wool
in winter.
I shall miss mine, but they do not inspire me to immortalise them in verse. Neither do I see them in the Bible. Perhaps folk living in a hot climate preferred their sandalled feet to lack the additional insulation a sock provides. Though Roman auxiliaries and legionaries wore a kind of stocking under their hobnailed caligae, the apostle Paul omits them from his Armour of God routine. They are not, after all, protective, though anyone who climbs Blencathra in winter may beg to differ. Still, he would have known that to get one's feet shod with the preparation of the gospel of peace, a sock or stocking would only assist the evangelist's mission. Go walking without socks and you'll soon wish you were back at home. God's providence provides us with some additional comforts that our work for Him might continue.