The Hound of Heaven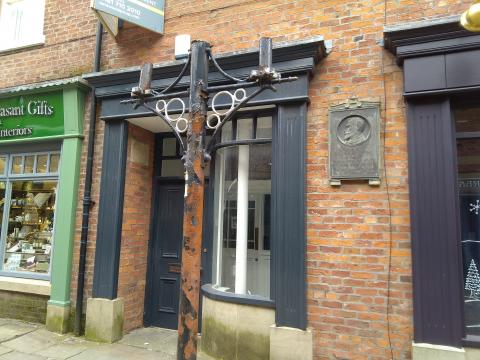 I recently passed a quaint row of shops in Preston, one of which bore a large commemorative plaque to the poet Francis Thompson (d 1907), who was born thereby. The man had a fairly grim life: raised Roman Catholic, trained as a priest and then as a doctor, yet ending up a homeless tramp in London, who sold matches for a living and made boots. His poems were appreciated and celebrated in his lifetime, but he was also an opium addict, which curtailed his potential and health. One of his poems in particular had an effect on J.R.R. Tolkien and was described by Chesterton as the "most magnificent poem written in English". Its title was appropriated by C.S. Lewis, and describes God's determined and relentless pursuit of the sinner, that He might save him and embrace him. Thompson was certainly a fugitive from God's grace, and may indicate that the patient God of heaven captured his heart.
The final stanza reads
Wherefore should any set thee love apart?
Seeing none but I makes much of naught' (He said),
'And human love needs human meriting:
How hast thou merited—
Of all man's clotted clay the dingiest clot?
Alack, thou knowest not
How little worthy of any love thou art!
Whom wilt thou find to love ignoble thee,
Save Me, save only Me?
All which I took from thee I did but take,
Not for thy harms,
But just that thou might'st seek it in My arms.
All which thy child's mistake
Fancies as lost, I have stored for thee at home:
Rise, clasp My hand, and come!'

I am not entirely comfortable comparing the great God to a great dog, but the sentiment is true enough. Our God seeks and saves the sinner, that his life might be redeemed, his sin atoned, and his dignity restored. This Easter, forget the chocs and the eggs, the daffodils and the rabbits. Such are worhtless distractions, seasonal ephemera. Rather, submit and yield to the resurrected Christ who desires your company at His banquet. Like Thompson, you might have been an idolater, an addict, a wastrel. Though you have been rejecting and disdaining Him, yet still He woos your soul and knocks at your door. 
Behold, I stand at the door, and knock: if any man hear my voice, and open the door, I will come in to him, and will sup with him, and he with me.
-Reveleation 3:20