House Envy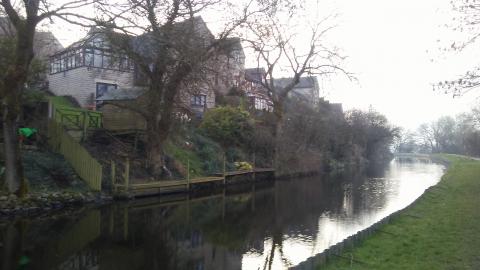 I sometimes suffer from house envy. I see where others live and wish I could do likewise. Perhaps it's the result of all those Escape to the Country and Grand Designs type of programmes I used to watch on television. Here in Barnoldswick, I walked along the Leeds-Liverpool canal and beheld some beautiful modern properties on the other side. They commanded wonderful views of the nearby drumlins and had large conservatories and generous outdoor decking for those long summer evenings. Mmm, if only I could live there.
In John 14:3, Jesus promises His disciples And if I go and prepare a place for you, I will come again and receive you to Myself; that where I am, there you may be also. Even those saints who enter heaven as though they'd escaped through the flames will be given better quarters than any earthly mansion or palace. 
For a day in thy courts is better than a thousand. I had rather be a doorkeeper in the house of my God, than to dwell in the tents of wickedness.
Psalm 84:10