A Huge Bill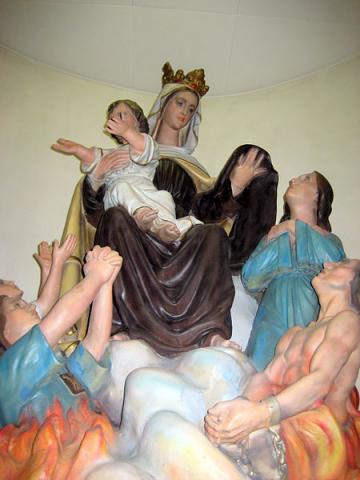 When I open my bills, which are usually electronic these days, there's always a moment of apprehension: will it be more than I thought? Will it be more than I can afford? January's electricity bill has just come through- over thirty-eight pounds- the most I've ever paid. Thankfully, I can afford it, but it is more than I was expecting. It's what comes with being off work for two weeks, using my own light bulbs rather than my employer's.
Imagine the horror of receiving a gigantic financial demand. A woman in Pennsylvania recently received an electricity bill for more than $284bn (£212bn) in December 2017. Mary Horomanski from Erie, was ordered to repay $28,176 at the end of that month, leaving an outstanding balance of $284,460,000,000. Of course, it was a computer-generated mistake, and the company apologised.
If you think that is a horror story, how about this one: You live a good, pious life, having been assured that Christ died for you and that He has grace to cover your sins. Upon dying, however, you find yourself in a 'temporary fire' for twenty thousand years in which your sins are purged, in order to finally fit you for heaven. That's quite some bill and quite some payment to satisfy it. I am naturally referring to the obnoxious doctrine of purgatory.
Purgatory is not found in scripture which comes as little surprise as it contradicts that which is. If I pay for my own sins in that place, why did Christ have to die? If my salvation depends on my being purged, what role is there for God's grace? If the pope and Mary can intercede to hasten my departure, why don't they do it freely and quickly, rather than waiting for indulgences to be purchased?
'It is finished' cried Christ from the cross. Payment is made, satisfaction offered. The way to God was restored; poverty-stricken sinners with no means of paying have no payment to make. The bill was huge, but the payment offered was more than enough. 
The photograph shows people in the fires of purgatory pleading with Mary to release them or ease their pain. 
Statue of Our Lady of Mount Carmel with Infant Jesus at Saint Leonard of Port Maurice Church in the North End of Boston. One of the souls in purgatory appears to be wearing a Scapular of Our Lady of Mount Carmel. January 2009 photo by John Stephen Dwyer. This file is licensed under the Creative Commons Attribution-Share Alike 3.0 Unported license. Attribution: John Stephen Dwyer