If It's Saturday
If it's Saturday, it must be Skipton.
No, that can't be right, we were there yesterday, under a leaden sky, in a decidedly chilling wind. No, it's just that I'm heading through Colne towards that same turn-off, but I'll be going left at the roundabout towards Barnoldswick. Barnoldswick, that's it. There's a free car park very close to the centre of town, too. Skipton's car parks are extraordinarily expensive. Will I get there in good time? Yes, for once the road through Colne is relatively clear. Let's hope it stays fine...
It did, but it was pretty cold again. Oh well, Proverbs 20.4. It was a busy week, last week, all in all. After Wednesday's Open Air in Manchester, I went to Great Harwood on Thursday morning to lend a hand with Great Harwood Christian Fellowship's literature table and tract distribution, followed by trips to Skipton and Barnoldswick to meet Mike and others from Salem (and elsewhere) to give out tracts.
For some reason there are lots of jobs to do and appointments to keep at this time of year: visits to the dentist and the optician, the annual service for the car, repairs and maintenance outside before the weather really closes in, transporting family members here, there, and everywhere, and then - well, you get the idea. Most of these things aren't particularly exciting or entertaining: they just need doing. Not so with the time spent giving out tracts, talking, and, on occasion, preaching in the open air. You can get cold and wet and sometimes be made to feel uncomfortable; but, in the end, these are rewarding experiences.
I note that both 10ofThose and Living Waters are currently promoting outreach using tracts of various descriptions on their websites. I recommend that you visit them: some of their suggestions might strike a chord with you, and get you out and about in this pre-Christmas period.
And then, there was one other job that I had to do that gave me almost as much satisfaction as the trips out with tracts.
The backyard has been looking very dull this year. Most of the plants in pots on the walls died off in the cold and damp and snow and ice of last winter. It's a bleak spot: even in summer, it's in shade for most of the day; it's generally wet, so that moss covers new terracotta pots within a couple of months; and it catches every blast of wind coming down off the moors in the winter. I hadn't been able to put in any bulbs in autumn or spring, so their cheerful blooms were absent, as well.
So, I emptied the old compost from the plantless pots, cleaned them up with the power washer, then refilled them, putting in bulbs of the more vigorous types - little ornamentals don't survive for long. It took an afternoon, since I was cleaning up the concrete and the walls at the same time, and I did get rather cold and quite wet: but I was happy when it was all done. Here are the pots, ranged along the top of one wall.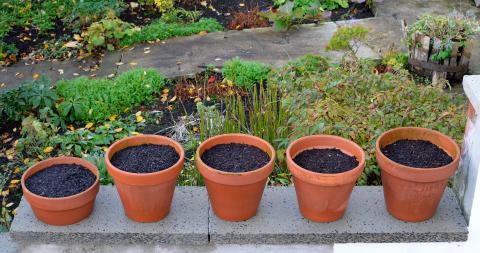 What? You can't see any flowers? No instant bursts of bloom after all that effort? No, of course not. We'll just have to wait and see what transpires, in the fullness of time.
And so it is with praying and preaching and tracting and talking. It's a good thing to be of the Reformed persuasion, because you can just go and do, and then leave the rest to a great and sovereign God. I wish I'd realised that earlier on in life.
That said, I've just spotted some squirrels noseying about down below. I'll go and unlock the gun cabinet… just in case… just to scare them off, eh? I'm sure Mr Winner would have approved...