I'm coming!
There is one old photograph in the family album that always makes me smile.  Two children and a bike, reminding me of the fun we had and the love we shared, and still share.
There's another photograph as well.  Our younger sister, showing that she could ride the bike too!  It was far too big for her really, but the picture captures the day when she managed to turn the pedals for herself, triumphantly calling, "I'm coming!"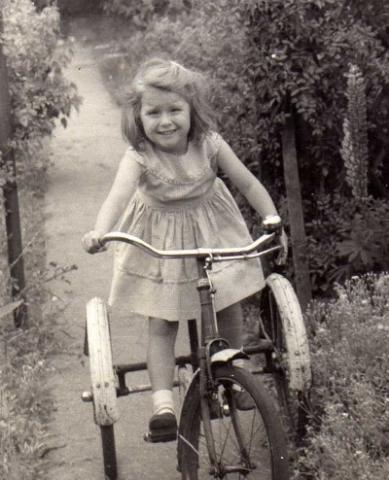 The Lord Jesus promised that He would never cast out the one who comes to Him.  (John 6:37)  What makes us want to come?
Well, the ultimate cause is that in eternity past, before the worlds were made, before time began, the Father gave to His beloved Son a people for His special possession.  And as Jesus said at the beginning of the verse just quoted, "All that the Father gives Me will come to Me."  The call goes out in the preaching of the gospel, for, "How shall they hear," asks Paul, "without a preacher?"   We wouldn't naturally choose to come, but God's irresistible grace brings each of His elect people to Himself.  "I have loved you with an everlasting love; therefore with loving kindness I have drawn you."  (Jeremiah 31:3)  A general call becomes specific and effectual and we hear Him say, "Fear not,  for I have redeemed you.  I have called you by your name; you are Mine."  (Isaiah 43:1)
But that's not the end of the matter.  Always, He wants us to keep coming, learning to know Him better as we meet Him in His word and in prayer, growing in our love for Him and in our obedience to Him.  Sometimes we wander away, putting our trust in ourselves, in other people, in techniques, in things.  So He lovingly calls us to come back.
O Israel, return to the Lord your God, for you have stumbled because of your iniquity; take words with you, and return to the Lord…  (Hosea 14:1)
And at all times, let us remember that, amazingly, it gives Him joy whenever we come, as the Beloved tells us:
Let me see your countenance, let me hear your voice; for your voice is sweet, and your countenance is lovely… You who dwell in the gardens, the companions listen for your voice — let me hear it!  (Song of Songs 2:14 and 8:13)
One day, He Himself will come and take us home to be with Him forever.  While we look to that day, may we, to quote Joseph Hart, let no other trust intrude!
Come to the Saviour now!
He gently calleth thee;
In true repentance bow,
Before Him bend the knee.
He waiteth to bestow
Salvation, peace and love,
True joy on earth below,
A home in heaven above.
Come, come, come!
Come to the Saviour now!
He suffered all for thee,
And in His merits thou
Hast an unfailing plea.
No vain excuses frame,
For feelings do not stay:
None who to Jesus came
Were ever sent away.
Come, come, come!
Come to the Saviour now,
Ye who have wandered far;
Renew your solemn vow,
For His by right you are.
Come like poor wandering sheep
Returning to His fold;
His arm will safely keep,
His love will ne'er grow cold.
Come, come, come!
Come to the Saviour, all,
Whate'er your burdens be,
Hear now His loving call -
'Cast all your care on Me,'
Come, and for every grief,
In Jesus you will find
A sure and safe relief,
A loving Friend and kind,
Come, come, come!
J M Wigner