Jenn's Imaginary Deity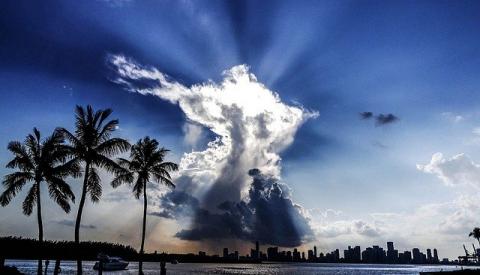 Were you aware that:
-Angels fly around God's throne, texting each other?
-Angels fly around God's throne, breaking wind, and chuckling?
These claims are ludicrous and deeply disrespectful. Who made them? Jenn Johnson, a professional 'worship leader'. Sitting on a couch, entertaining the crowd, you can see it here for yourself. Jenn concludes that "God's a heck of a lot more fun that we think he is." I suspect that God is a heck of a lot deeper and more sensible than Jenn assumes He is.
Jenn likes to have fun. She likes to amuse her audience. They laugh on cue, lapping up her every claim and guffawing at her every quip. She projects her desire for fun onto the angelic beings who worship in heaven. When we read of them ministering before God's throne in Ezekiel, Isaiah and Revelation, we find no trace of flippant levity, but awesome gravity. I wonder if Jenn's angels and deity are just figures of her imagination, unlike the real angels and God whom the Bible describes. If you weren't sufficiently impressed by Jenn's musical abilities and comedy routines, her marketing and online business acumen might do the trick. "Lovely by Jenn Johnson" is her official 'brand', which the patter describes as
'a lifestyle expression intended to inspire, equip and engage women of all ages to thrive. A healthy life is one of connection to God and community, good habits and being confident in who you are. Lovely is a place to discover new and better ways to find inspiration in the everyday, get motivated to be the best you and share with those around you revelation that only YOU can give.'
Notice that although God is mentioned, it really is all about the consumer. The reader, who is mentioned four times, is urged to be more confident and better motivated. And what is it she sells? Barbeque sets and makeup, among other things.
I wonder if this approach is true about the Christian music she leads. It's more about making the worshipper feel good about himself than the One worshipped deriving any satisfaction. The worshipper is a consumer of a product, a punter wishing to be entertained, a client seeking personal improvement. Worship in the Bible is rather different. It is a sincere, heart-felt response to the astounding and overwhelming majesty of Almighty God and a genuine expression of gratitude for His amazing grace and undeserved mercy. Doubtless, our worship here on earth is wholly inadequate, too prone to distraction, deficient in both intensity and length. My own preference for songs and hymns interspersed with prayer and scripture-reading is no guarantee of authenticity, but it may better preserve us from the likes of Jenn and her feel-good vibes, her base appeals to fleshly natures, her laugh-a-minute glee fests and emotionally driven music.
Although the fig tree shall not blossom, neither shall fruit be in the vines; the labour of the olive shall fail, and the fields shall yield no meat; the flock shall be cut off from the fold, and there shall be no herd in the stalls. Yet I will rejoice in the Lord, I will joy in the God of my salvation.
-Hab. 3:17-18
Image by Wilhelm Eder from Pixabay