The Jew's House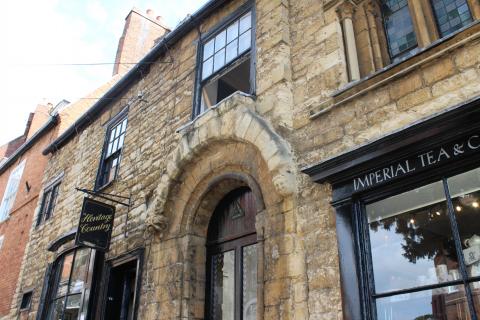 The Jew's House is a medieval dwelling in Lincoln's old town, built along Steep Hill, the narrow road heading up to the castle and cathedral. The city once had a thriving Jewish community, so the imposing stone-built house may well have once had prosperous Jewish occupants. Sadly, a horrid wave of violent antisemitism broke out in 1255. The Jews were accused of kidnapping and ritually murdering Hugh, an 8-year-old boy. One Coppin was immediately executed on the orders of the King, and ninety others arrested and sent to the Tower of London. 18 were hanged and the remaining 71 were later found guilty, but released as the poverty of evidence became apparent.
These trumped-up charges benefited the King who could legally confiscate all their property, and the Cathedral which could claim Hugh as a local saint, whose tomb would attract generous pilgrims. Almost certainly, this Jew's House stopped being a Jewish home, as its occupants were hanged or incarcerated. Was this whole sordid affair an example of state corruption and avarice? Xenophobia and racism? Sadly, the Jews suffered wherever they went. It was Islamic lands in which they probably received the most kindness, and even that couldn't be taken for granted. From the pogroms of Russia, Welsh riots and the gas chambers of Poland, the Jews have been terribly persecuted. Abraham's descendants- physical and spiritual- are fair game to a fallen world. It is not it just a feature of the past, like our Jew-free Jew's House in Lincoln. According to German Bernd Riegert, reporting in DW (October, 2019): 
Research clearly shows that anti-Semitic abuse and violence is increasing in the EU. Following last week's anti-Semitic attack in Halle, Germany, the EU has urged decisive action.
Walter Russell Mead remarks in The American Interest, 5th April, 2010:
Anti-Semitism is a kind of social mark of Cain that indicates a society or culture that is not ready for prime time and which will fail the tests of modern life; when anti-Semitism gains a foothold, the canary in your coal mine has just keeled over and died.
How many more empty Jews' houses will this nation tolerate?